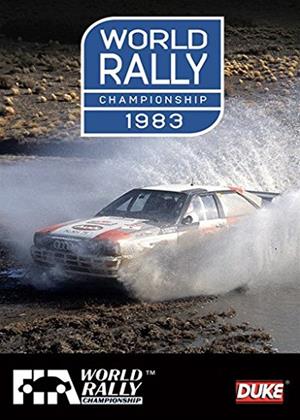 General info

Available formats
Synopsis:

Looking back at the 1983 World Rally Championship season the quality of the field and the array of stunning cars is simply breathtaking. Besides defending champ Walter Röhrl and eventual victor Hannu Mikkola, there were no fewer than six past or future champions in the field: Stig Blomqvist, Markku Alen, Ari Vatanen, Timo Salonen, Miki Biasion, Björn Waldegård and Juha Kankkunen. With the introduction of the Lancia 037 and Audi Quattro A1 in the early 1980's, World Rallying had entered the supercar age and the big money attracted big name drivers and made for sensational showdowns on gravel, ice, tarmac and snow.

1983 saw the return of the Argentina Rally to the WRC schedule of 12 events, which also included the famous Safari Rally, Tour De Corse and RAC Rally rounds. With Audi and Lancia throwing the kitchen sink at their factory efforts the battle between the German and Italian rallying giants dominated the whole season and the furious back and forth battle went all the way to the wire.

Studio:

Duke

Genres:
BBFC:

Release Date:

Not available for rental

Run Time:

88 minutes
Unlimited films sent to your door, starting at £10.99 a month.