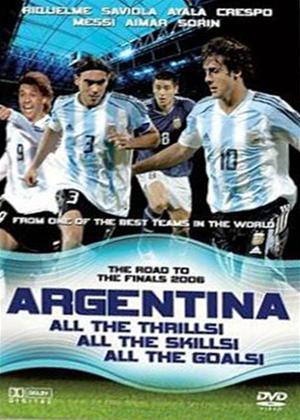 General info

Available formats
Synopsis:

From one of the best teams in the world, blistering pace, skilful dribbling, solid in defence, inspired in attack, with a squad of players whose talent grace the turf of clubs throughout Spain, Italy and England, Argentina booked their place at the World Cup 2006 with typical flair and finesse. Already winners of two past finals, the countries current squad, under the watchful eye of coach Jose Pekerman, are masters of the one touch pass and secured their place in Germany by beating arch rivals Brazil 3 – 1.

Enjoy that game's highlights and much more besides, as players like the superb Hernan Crespo, the mighty Juan Roman Riquelme and teen sensation Lionel Messi follow in the fleet, footballing steps of legendary Maradona.

Aka:

Argentina Review - Road to the 2006 World Cup Finals

Studio:

ILC

Genres:

Countries:
BBFC:

Release Date:

06/11/2006
Unlimited films sent to your door, starting at £9.99 a month.