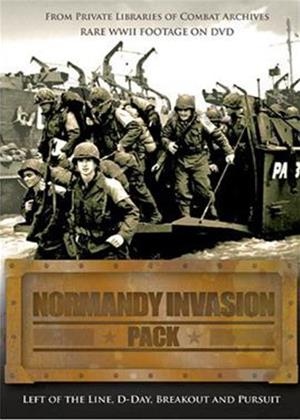 General info

Available formats
Synopsis:

Over 90 min of rarely before seen interviews, documentaries, war footage and more from private libraries of veterans from WWII. This action packed and stunning DVD contains the following programs:

Left of the Line: On 6 June, the Allies landed on five separate beaches on the Normandy coastline. Three of those beaches, Gold, Sword and Juno were assigned to either British or Canadian forces. While the initial landings met significantly less resistance than the American forces on Omaha, the battles around Caan proved to be some of the deadliest of the campaign.



D-Day: On the morning of 6 June 1944, the coastal defenses of Hitler's "Fortress Europe" awoke to the site of over 5,000 surface ships bearing down on the Normandy beaches ready to deliver the long anticipated invasion. By the evening of the 6th the Allies had suffered close to 10,000 casualties in taking the precious beaches, with another 100,000 men and their equipment safely landed.

Breakout and Pursuit: - With the Allies ashore in large numbers, the need to breakout of the famous Norman hedgerows became an urgent priority. Hemmed in by the natural terrain and the masterful defensive work of the German defenders, the Allies suffered extensive casualties and found themselves offensively stalled in the ensuing months after the invasion. However in late July 1944, an Allied operation code-named "Cobra" created a breakout letting loose General George S Patton and his relentless Third Army.

Studio:

Rsk Entertainment

Genres:

Countries:
BBFC:

Release Date:

Not available for rental

Run Time:

63 minutes

Languages:

English

DVD Regions:

Region 2

Formats:

Pal

Aspect Ratio:

Full Screen 1.33:1 / 4:3

Colour:

Colour and B & W
Unlimited films sent to your door, starting at £9.99 a month.