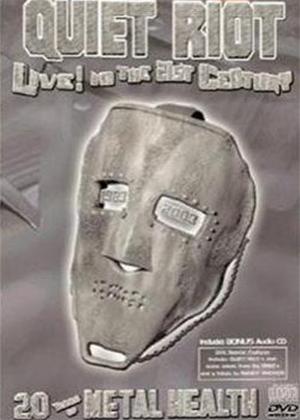 General info

Available formats
Synopsis:

Come and 'Bang Your Head' with "Quiet Riot". For the first time in their 20 year history, this legendary band give the fans an audio, visual package that proves rock and roll isn't dead... This special 2Pack set includes a video concert program packed with loads of bonus stuff as well as a separate audio CD. "Quiet Riot" made history in 1983 when their debut album "Metal Health" climbed the Billboard charts all the way to #1. This marked the very first time in music history that a 'Heavy Metal' acts debuted release would top the charts! Still going strong after more than 20 years "Quiet Riot" plays to fans all over the world and has influenced a generation of 'Head-Bangers".



Tracklisting:
- Vicious Circle
- Slick Black Cadillac
- Terrified
- Mama Weer All Crazy Now
- Feel the Pain
- Itchykoo Park
- Don't Wanna Let You Go
- Thunderbird
- Danger Zone
- Sign of the Times
- Battle Axe (guitar Solo)
- Psycho City
- Swinging Lumber (drum Solo)
- Cum On Feel the Noize
- My Generation
- Metal Health (bang Your Head)

Actors:

Directors:

Studio:

Wienerworld

Genres:
BBFC:

Release Date:

Not available for rental

Run Time:

105 minutes

Languages:

English

DVD Regions:

Region 2

Formats:

Pal

Aspect Ratio:

Full Screen 1.33:1 / 4:3

Colour:

Colour

Bonus:

Instant Scene Access
Animated Menu
Bonus Clips
Photo Gallery
A Tribute to Randy Rhoads
The very first music video ever created for Quiet Riot in 1979!
Bonus footage includes the band in the studio back in the 80s recording and creating havoc
Unlimited films sent to your door, starting at £10.99 a month.