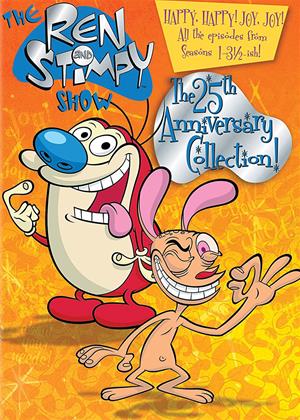 General info

Available formats
Synopsis:

Collection of episodes from the first three series of the cult Nickelodeon cartoon featuring the feuding cat and dog friends, Ren and Stimpy (voices of John Kricfalusi and Billy West). You eediot! Do you really think you can handle the extreme and crazy world of Ren and Stimpy? It's everyone's favourite asthma-hound chihuahua, Ren Hoëk, and his overweight and under-brained companion, Stimpy, yin and yang, pessimist and optimist, psycho and stupid. In celebration of the quarter century which has passed since the demented duo made their TV debut, we re bringing you all the complete uncut and untamed episodes from seasons one to three and a half-ish of the Ren and Stimpy show.

With opposite personalities and tempers, almost elastic body types, and an intense relationship, the two life-mates set out on surreal journeys from the suburbs to the city, to the bottom of a barroom spittoon. Join the madness with their friends powdered Toastman, Jimminy Lummox, Jerry the Bellybutton Elf, Crazy Wilbur Cobb, deranged circus midgets, and more! From girl scouts to brain surgery, from prehistoric times to inside Ren's face, the twisted twosome's warped adventures into the bizarre will supply hours of enjoyment for you and all your twisted friends! So what are you waiting for? Slap on a happy helmet and get ready to celebrate! Happy, happy! Joy, joy!

Aka:

The Ren and Stimpy Show: The 25th Anniversary Collection

Studio:

Plastic Head

Genres:
BBFC:

Release Date:

Unknown

Disc 1:

Disc 2:

Disc 3:

Disc 4:

Disc 5:

Disc 6:
Unlimited films sent to your door, starting at £10.99 a month.