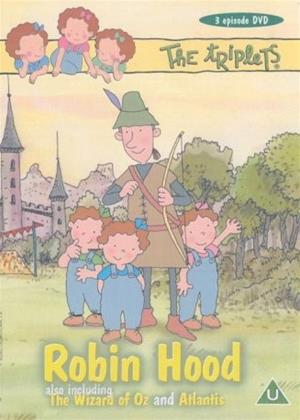 General info

Available formats
Synopsis:

More adventures with the time-travelling triplets and their friendly foe, The Bored Witch.

Robin Hood
After the Triplets follow a deer into the woods, the Bored Witch sends them to Sherwood Forest. There they meet Robin Hood and begin a wondrous adventure in the court of King Richard the Lionheart.
Atlantis
The Triplets are enjoying their summer holiday at the beach until the Bored Witch sends them to the "Lost" island of Atlantis, which has mysteriously resurfaced! Can they save the Island from 20th-Century evildoers?
The Wizard of Oz


A tornado whirls the girls and the Bored Witch into an exciting journey in the Land of Oz. The Triplets really have used their imaginations to urn themselves into the Lion, the scarecrow, and the Tin Man!

Studio:

Escapi

Genres:

Countries:
BBFC:

Release Date:

27/05/2002

Run Time:

90 minutes

Languages:

Dutch, English, German, Italian, Japanese, Swedish

Subtitles:

Dutch, English, French, German, Italian, Swedish

DVD Regions:

Region 2

Formats:

Pal

Aspect Ratio:

Full Screen 1.33:1 / 4:3

Colour:

Colour
Unlimited films sent to your door, starting at £9.99 a month.