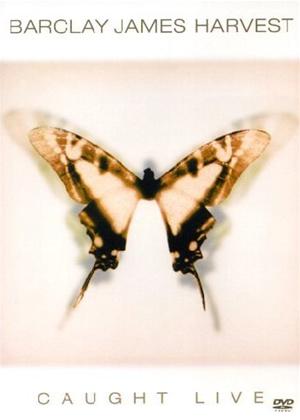 General info

Available formats
Synopsis:

Barclay James Harvest formed in the summer of 1967. From the very outset the band pioneered and experimented with new forms, going beyond the traditional guitar, bass and drums format to include woodwind, strings and brass, then acquiring a Mellotron to simulate the sound of an orchestra. Throughout the seventies the band continued to develop chart-topping albums and were capable of filling stadiums and arenas throughout Europe. This DVD captures the band at various points during their career and is a spectacular insight into their most successful years.

'Caught Live' The Documentary.


A documentary recorded in 1977, 'Caught Live' is a rare film, originally a cinema release of Barclay James Harvest. A unique insight to life on the road during BJH's most successful period. Including rare interviews with the band, backstage footage and pre-concert sound checks.

The Drury Lane Concert - Record Live in 1974.
Rare and previously unreleased footage, featuring the original line up of the band, which has been restored and re-mastered with enhanced sound and picture quality.

Track List Includes
- Child Of The Universe
- Rock And Roll Star
- Hard Hearted Woman
- Suicide?
- Mockingbird
- Polk Street Rag
- Hymn
- Crazy City
- For No One
- The Great 1974 Mining Disaster

Actors:

Directors:

Studio:

Warner Music Entertainment

Genres:
BBFC:

Release Date:

Unknown

Run Time:

55 minutes

Bonus:

The Drury Lane Concert (1974)
Biography
Band Member Profiles
Discography
Interactive Menu
Track Selection
Rent other films like Barclay James Harvest: Caught Live
Unlimited films sent to your door, starting at £9.99 a month.