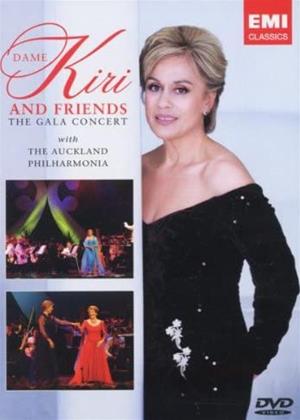 General info

Available formats
Synopsis:

On February 28th, 2004, Dame Kiri Te Kanawa gave an historic gala concert at The Aotea Centre to launch the Kiri Te Kanawa Foundation, a cause truly close to her heart, created with the stated mission of providing financial and career support for talented young New Zealand singers and musicians at the start of their career. Accompanied by the Auckland Philharmonia, Kiri invited some of her native Kiwi friends to share in this world-class occasion, including Dame Malvina Major, Simon O'Neill and Helen Medlyn. It was the event of the year in Auckland and tickets sold out within hours of going on sale.

The programme is an operatic event of all the favourites, an added bonus being this is the first time Dame Kiri and Dame Malvina Major have performed together in concert.

Tracklisting:
1. Tarakihi (Traditional) Chorus
2. Porgi Amor (Mozart - le Nozze di Figaro) Kiri Te Kanawa
3. Soave sia il vento (Mozart - Cosi fan Tutte) Kiri Te Kanawa, Helen Medlyn & Edward Scorgie
4. Morgen (Richard Strauss) Kiri Te Kanawa
5. Habanera (Georges Bizet - Carmen) Helen Medlyn and Chorus
6. Flower Song (Georges Bizet - Carmen) Simon O'Neill
7. Merce diletti amiche (Verdi - I Vespri Siciliani) Malvina Major
8. Depuis le jour (Charpentier - Louise) Kiri Te Kanawa
9. Dome epais, le jasmin (Delibes - Lakme) Kiri Te Kanawa, Malvina Major
10. Vissi d'Arte (Puccini - Tosca) Malvina Major
11. Nessun Dorma (Puccini - Turandot) Simon O'Neill and Chorus
12. Un bel di vedremo (Puccini - Madame Butterfly) Malvina Major
13. Chi il bel sogno di Doretta (Puccini - La Rondine) Kiri Te Kanawa
14. Che soave zefiretto (Mozart - le Nozze di Figaro) Kiri Te Kanawa, Malvina Major
15. Io son l'umile ancella (Cilea - Adriana Lecouvreur) Kiri Te Kanawa
16. O soave fanciulla (Puccini - La Boheme) Kiri Te Kanawa, Simon O'Neill
17. Make Your Garden Grow (Bernstein - Candide) Simon O'Neill and Chorus
18. Champagne Chorus (Johann Strauss II - Die Fledermaus) The Full Company
19. May It Be "The Lord Of The Rings - The Fellowship of the Ring" (Rnya, N.Ryan, R.Ryan) Kiri Te Kanawa
20. Hine e Hine (Te Rangi Pai) Kiri Te Kanawa and Chorus


Actors:

Dame Kiri Te Kanawa

, Opera Factory Ensemble, The Auckland Philharmonia

Studio:

EMI

Genres:

Countries:
BBFC:

Release Date:

Not available for rental

Run Time:

90 minutes

Languages:

English, Italian

DVD Regions:

Region 2

Formats:

Pal

Aspect Ratio:

Full Screen 1.33:1 / 4:3

Colour:

Colour
Rent other films like Kiri Te Kanawa: Dame Kiri and Friends: The Gala Concert
Unlimited films sent to your door, starting at £9.99 a month.