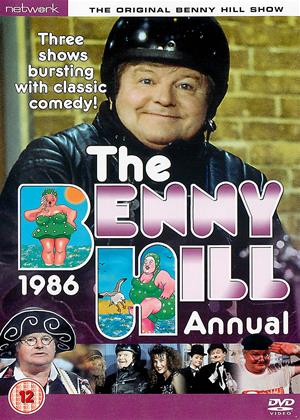 General info

Available formats
Synopsis:

Join comedy superstar Benny Hill in three more of his classic shows from the 1980's! Known throughout the world for his combination of high-speed farce, risqué jokes and gorgeous ladies, it is these shows - made for Thames Television - that turned him into a global household name. In three shows from 1986, Benny's rockin' all over the world - taking in a 1930's cruise, a meeting of Hollywood producers in Cannes, an American soap, a German 'Crossroads' and a strategically subtitled Swedish film. Back home, we find the world's worst handyman, and Benny falls for the wrong girl next door.

With every show a critically acclaimed ratings topper it's no surprise that 'The Benny Hill Show' was one of the most successful programmes ever screened on British television. So join Benny, the ladies and his assorted hopeless helpers in three superb shows. There's more to come. Look out for further Benny Hill Annuals year-by-year and show-by-show.

Actors:

Benny Hill

,

Henry McGee

,

Anna Dawson

,

Bob Todd

,

Jon Jon Keefe

,

Louise English

,

Len Keyes

,

Sydney Arnold

,

Hill's Angels

,

The Ladybirds

,

Emma Bryant

,

Lorraine Doyle

,

Mike Mulloy

,

Tracy Smith

,

Samantha Spencer-Lane

,

Alison Thomas

,

Sue Upton

, Vanessa Biddulph

Directors:

Producers:

Writers:

Aka:

The Benny Hill Show: Series 17

Studio:

Network

Genres:
BBFC:

Release Date:

13/09/2010

Run Time:

150 minutes

Languages:

English Dolby Digital 1.0 Mono

Subtitles:

None

DVD Regions:

Region 2

Formats:

Pal

Aspect Ratio:

Full Screen 1.33:1 / 4:3

Colour:

Colour
More like The Benny Hill Show: The 1986 Annual
Unlimited films sent to your door, starting at £10.99 a month.