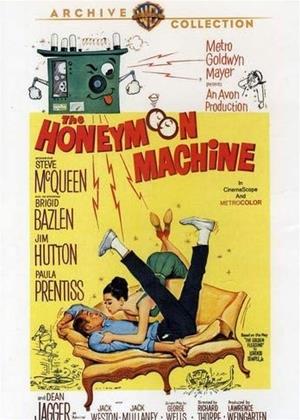 General info

Available formats
Synopsis:

As Lieutenant Fergie Howard (Steve McQueen) and Ensign Beau Gilliam (Jack Mullaney) are playing poker on board their ship, 'El Mira', they are interrupted with the announcement that 'Operation Honeymoon' has been launched successfully. This is due to Max the computer- a computer that can pinpoint exactly where and when a missile will land once it has been launched. This information gives Fergie and idea of how to become rich quick and easy. He asks the navy scientist, Jason Elderidge, if Max can tell where a ball will land when playing roulette- the answer is, yes! When they dock in Venice, Fergie, Beau and Jason check into an expensive hotel and hit the Venice Casino.

The three soon find out that becoming rich won't be as easy as they think, for, Admiral Fitch is staying in the same hotel- just one floor below them. If Admiral Fitch discovers what the are doing, they are in big, big trouble.

Actors:

Steve McQueen

,

Brigid Bazlen

,

Jim Hutton

,

Paula Prentiss

,

Dean Jagger

,

Jack Weston

,

Jack Mullaney

,

Marcel Hillaire

,

Ben Astar

,

William Lanteau

,

Ken Lynch

,

Simon Scott

,

Alex Ball

,

John Bleifer

,

Paul Bradley

,

George Bruggeman

,

William Burnside

,

Paul Cristo

, David Cross,

Oliver Cross

Genres:
BBFC:

Release Date:

Not released

Run Time:

87 minutes
Rent other films like The Honeymoon Machine
Unlimited films sent to your door, starting at £9.99 a month.