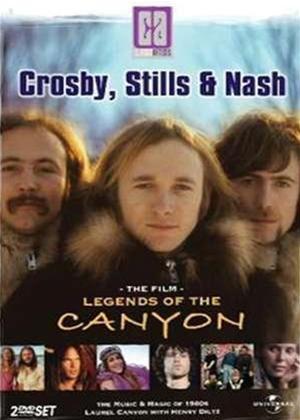 General info

Available formats
Synopsis:

"Legends of the Canyon" delivers the story of the advent of rock music spawned in the garden of the Hollywood Hills, Laurel Canyon. Crosby, Stills & Nash brought alive the anthems of a generation in these hills in a commune-like setting in the late 1960s. The Byrds, Buffalo Springfield, Carole King, Mamas and Papas, Joni Mitchell and Linda Ronstadt and other great artists of the era were all inhabitants of Laurel Canyon working toward the common goal of putting out great music with a lasting message. These songs continue to inspire. "Legends of the Canyon" takes you there.

Visually stunning, intensely captivating and musically inspiring, this Classic Artists' film brings us to a time when war and peace were the bywords of the moment, and those that refused to let go of a dream of a life where harmony ruled the Earth, their music still echoes through the hills of Laurel Canyon to this day.

Actors:

David Crosby

,

Chris Hillman

,

Buffalo Springfield

,

The Byrds

,

Dick Cavett

,

Allan Clarke

,

Crosby Stills & Nash

,

Richie Furay

,

Tony Hicks

,

Roger McGuinn

,

Joni Mitchell

,

Graham Nash

,

Richard Nixon

,

Greg Reeves

,

Grace Slick

Directors:

Writers:

Genres:
BBFC:

Release Date:

Not released

Run Time:

60 minutes

Languages:

English

DVD Regions:

Region 2

Formats:

Pal

Colour:

Colour

Disc 1:

Disc 2:
More like Classic Artists: Crosby, Stills and Nash: Legends of the Canyon
Unlimited films sent to your door, starting at £10.99 a month.