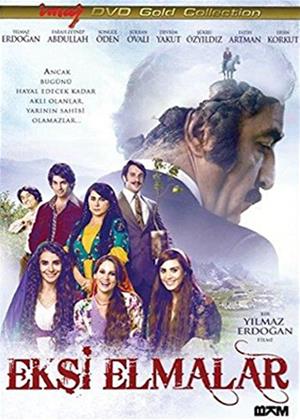 General info

Available formats
Synopsis:

Yilmaz Erdogan writes, directs and stars in this Turkish drama alongside Farah Zeynep Abdullah. Municipal Reformer Aziz Özay, known for his hard temperament, has two more famous features in the city: one is the fruit garden everyone dreams of, and the other is the beautiful three daughters who came to the age of marriage. It is a lot of girls who do not go to the center of the town and do not go out to the people very much. The stories of Aziz Bey's wife Ayda and her daughters Muazzez, Turkan and Safiye begin in Hakkari at the end of the 1970's and extend to Antalya at the end of the 1990's...

Actors:

Farah Zeynep Abdullah

,

Hamit Annak

,

Fatih Artman

,

Ergin Bal

,

Cezmi Baskin

, Caner Cindoruk,

Yilmaz Erdogan

,

Ersin Korkut

, Sükran Ovali, Devrim Yakut, Songül Öden,

Sükrü Özyildiz

Directors:

Writers:

Genres:

Countries:
BBFC:

Release Date:

Not released
More like Eksi Elmalar
Unlimited films sent to your door, starting at £10.99 a month.