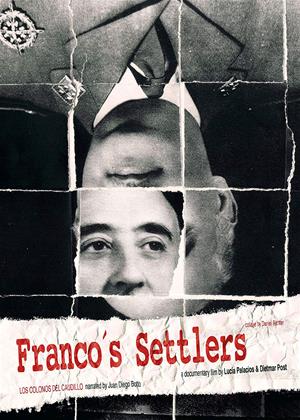 General info

Available formats
Synopsis:

The documentary 'Franco's Settlers' tells the story of a village that still bears the name of the dictator Franco. The film portrays the inhabitants of Llanos del Caudillo (Plains of the Caudillo), who express widely differing attitudes to the legacy of Franco's dictatorship. The village therefore becomes a reflection of Spanish society as a whole. How should the historical memory of Franco's dictatorship be handled? 'Franco's Settlers' is a fabulous film and a history lesson. It is absolutely amazing how at the end the film takes us right up to the current political situation in Spain.

Actors:

José Utrera Molina

,

Juan Diego Botto

,

Felipe González

, Santiago Sánchez, Ana Romano, Joaquín Romano, Natalio González,

Carlos Delgado

, Ana María Parrilla, Jesús Cano, Cleofé Serrano, Karin Brandt, Manuel Romano, Isidro Sánchez, Marí Serrano, Manuel Andrino Lobo,

Baltasar Garzón

, Antonio Rubio, Francisco Goberna, Eugenio Bascuñana

Writers:

Aka:

Los colonos del Caudillo

Studio:

Cargo Records

Genres:

Countries:
BBFC:

Release Date:

Unknown

Run Time:

118 minutes
Rent other films like Franco's Settlers
Unlimited films sent to your door, starting at £9.99 a month.