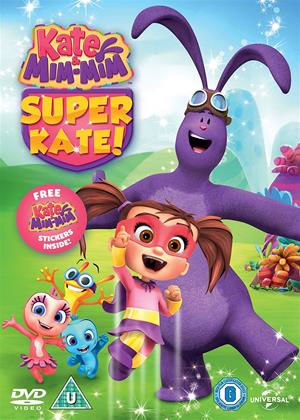 General info

Available formats
Synopsis:

Join five-year-old Kate and her toy bunny Mim-Mim as they travel to the fantasy world of Mimiloo, where Mim-Mim transforms into a larger-than-life playmate! Together with their friends Lily, Gobble, Tack and Boomer, Kate and Mim-Mim tackle a new challenge every day, set off on amazing adventures and help the different friendly creatures that they meet along the way. Kate can be and do anything in Mimiloo, whether she's jumping sky-high with her new superpower, performing a disappearing magic trick or helping a lost dragon find his way home! The episodes are: 'Lost Island', 'Kate the Great', 'Clean Sweep', 'Gobble's Gift', 'Kate's Dragon Quest' and 'Super Kate'.

Actors:

Brian Drummond

,

David Godfrey

,

Maryke Hendrikse

,

Matt Hill

,

Nicole Oliver

,

Tabitha St. Germain

,

Lee Tockar

Voiced By:

Writers:

Studio:

Universal Pictures

Genres:

Countries:
BBFC:

Release Date:

Not available for rental
More like Kate and Mim-Mim: Super Kate!
Unlimited films sent to your door, starting at £10.99 a month.