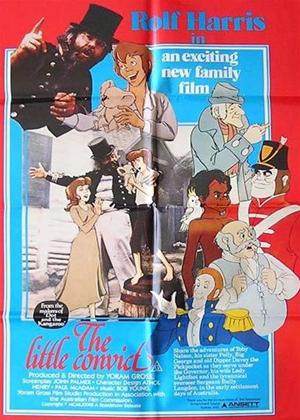 General info

Available formats
Synopsis:

After failing to sell any of his paintings at a funfair, an artist begins to tell his granddaughter about the origins of his paintings. We are then transported on board a British convict ...

Actors:

Rolf Harris

, Tim Aherne,

Don Boland

, Kerry Devlin,

John Farndale

,

Barry McDonald

, Albert Muir, Robert Quilter, Annabel Quinn

Directors:

Voiced By:

Paul Bertram, Ronald Falk, Gary Files, Anne Haddy, Brian Harrison, Sean Hinton, Harry Lawrence, Gary Marika, Richard Meikle, Kerry McGuire, Shane Porteous, Barbara Frawley

Writers:

Genres:

Countries:
BBFC:

Release Date:

01/01/2003

Run Time:

90 minutes

Languages:

English

DVD Regions:

Region 2

Formats:

Pal

Colour:

Colour
Rent other films like The Little Convict
Unlimited films sent to your door, starting at £9.99 a month.