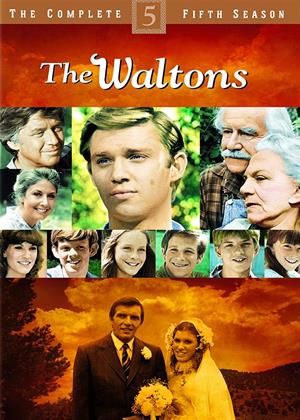 General info

Available formats
Synopsis:

In Season Five, John-Boy becomes a publisher and Mary Ellen becomes a bride! In front-page news, The Blue Ridge Chronicle hits the streets, with publisher John-Boy Walton covering everything from a local break-in (with brother Ben among the suspects) to his eyewitness account of the Hindenburg crash. And, in a story filled with surprises and a ceremony filled with poignancy, Mary Ellen becomes the first Walton child to marry. More adventures await, including Jason's job in a honky-tonk, Grandma's set-to with the minister, and a heartwarming Christmas episode that's sure to become a holiday favorite with families everywhere.

Along the way, old friends return, new friends arrive and the family foundation of love shines forth in one of television's most enduring series...

Actors:

Richard Thomas

,

Ralph Waite

,

Michael Learned

,

Ellen Corby

,

Will Geer

,

Judy Norton

,

Jon Walmsley

,

Mary Beth McDonough

,

Eric Scott

,

David. W Harper

,

Kami Cotler

,

Joe Conley

,

Ronnie Claire Edwards

,

John Crawford

,

Laird Cody Fenwick

,

Conrad Janis

,

Meegan King

,

Nora Marlowe

,

Michael Joseph McDonough

,

Rick Meyer

Voiced By:

Narrated By:

Genres:
BBFC:

Release Date:

Not available for rental

Run Time:

1213 minutes

Disc 1:

Disc 2:

Disc 3:

Disc 4:

Disc 5:
Rent other films like Waltons: Series 5
Unlimited films sent to your door, starting at £9.99 a month.