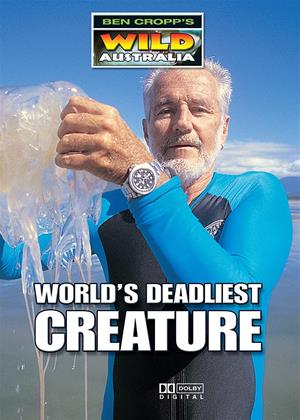 General info

Available formats
Synopsis:

Wildlife documentary presented by Aussie adventurer Ben Cropp. The deadly Box jellyfish inflicts agonising pain and is known to have killed as many as 80 people. During the hot months of Australia's summer the oceans along the northern coastline may look inviting, but swimmers take a huge risk by entering the waves. Many beaches have specially netted enclosures to keep swimmers safe from the Box jellyfish, but the nets are not fine enough to keep out the tiny Irukandji jellyfish, which is as small as a thumbnail but has also been to known to cause death. Ben Cropp travels to the coast of northern Australia to investigate the marine stingers that inhabit the oceans there.

Actors:

Directors:

Studio:

Quantum Leap

Genres:

Countries:
BBFC:

Release Date:

19/10/2009

Run Time:

52 minutes

Languages:

English

DVD Regions:

Region 2

Formats:

Pal

Aspect Ratio:

Widescreen 1.78:1 / 16:9

Colour:

Colour
Rent other films like World's Deadliest Creature
Unlimited films sent to your door, starting at £9.99 a month.