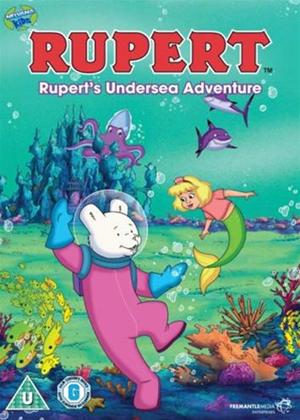 General info

Available formats
Synopsis:

Another adventure with the popular bescarfed cartoon bear, based on Alfred Bestall's original stories. This time around Rupert braves the perils of the deep.

Directors:

Voiced By:

Ben Sandford, Denis Akiyama, Guy Bannerman, Richard Binsley, Robert Bockstael, Valerie Boyle, Janie Brennan, Lally Cadeau, Graeme Campbell, J. Winston Carroll, Ho Chow, William Colgate, Damon D'Oliveira, Don Dickinson, Liz Dufresne, Colin Fox, Paul Haddad, Graham Haley, Lisa Jai, Rick Jones

Studio:

Fremantle

Genres:
BBFC:

Release Date:

Unknown

Run Time:

72 minutes

DVD Regions:

Region 2

Formats:

Pal

Colour:

Colour
More like Ruperts Undersea Adventure
Unlimited films sent to your door, starting at £10.99 a month.