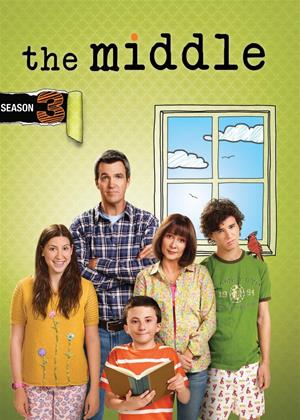 General info

Available formats
Synopsis:

Middle-aged, middle class and living in the middle of America, Frankie and Mike Heck (Patricia Heaton and Neil Flynn) are back with their three middle-of-the-road kids - Axl, Sue and Brick. With a heck of a lot more fun, fractiousness and farce, Season 3 finds the Hecks not only dealing with the economic realities of the middle-class squeeze, but also the whole new challenge of teenage adolescence and deciding when to say no and when to let go. This season, Mike cuts the household vacation budget by taking the family camping, while hormonal challenged Axl gets advice from him on how to pick up chicks (go figure).

Frankie is caught trying to cut in line to get Justin Bieber tickets, while Sue ends up tongue-tied learning to French kiss and Brick takes to quoting Shakespeare. Its 24 episodes of escapades and laughs, proving that life has never been so funny - in The Middle.

Actors:

Patricia Heaton

,

Neil Flynn

,

Charlie McDermott

,

Eden Sher

,

Atticus Shaffer

,

Ray Romano

,

Jen Ray

,

Beau Wirick

,

Sean O'Bryan

,

Amy Crofoot

,

Blaine Saunders

,

Trevor Glen Campbell

,

Jill Tracy

,

Sam Schuder

,

Laura Ann Kesling

,

Liz Montgomery

,

Kathryn Collins

,

Ashley Rebecca Hawkins

,

Victoria Bruno

,

Chord Overstreet

Voiced By:

Creators:

Writers:

Genres:
BBFC:

Release Date:

Not released

Run Time:

528 minutes

Languages:

English

Subtitles:

None

DVD Regions:

Region 2

Formats:

Pal

Aspect Ratio:

Widescreen 1.78:1 / 16:9

Colour:

Colour

Disc 1:

Disc 2:

Disc 3:
Rent other films like The Middle: Series 3
Unlimited films sent to your door, starting at £9.99 a month.