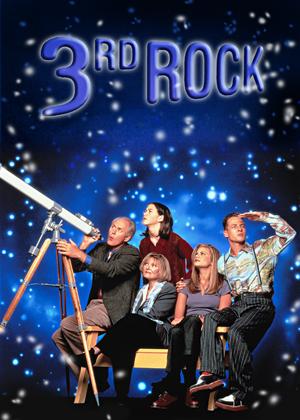 Synopsis:

Third Rock from the Sun is an American comedy drama about an unusual family. Sent to Earth to conduct first hand research on the lives, traits and behaviour of the human race a group of aliens disguise themselves as a human family and unexpectidly find themselves facing many of the same trials and tribulations of any normal American family. Series stars John Lithgow and Jane Curtin whilst the title refers to Earth's location within the solar system.

Actors:

John Lithgow

,

Dan Gilvezan

,

Kristen Johnston

,

Douglas Maida

,

French Stewart

,

Joseph Gordon-Levitt

,

Lori Hall

,

Simbi Khali

,

Bill Martin

,

Elmarie Wendel

,

Rakefet Abergel

,

Mike Schiff

,

Alex Alexander

,

Wayne Knight

,

Jane Curtin

,

Ed Gale

,

Arturo Gil

,

Megan Mullally

,

Curtis Armstrong

,

Ian Lithgow

Directors:

Producers:

Patrick Kienlen, Aron Abrams, Bob Kushell, Gregory Thompson, Jane Reardon, Bill Martin, Mike Schiff, Michael Glouberman, Andrew Orenstein, David Goetsch, Jason Venokur, David Israel, Jim O'Doherty, Christine Zander

Voiced By:

Dan Gilvezan, Marla Fries, Mendi Segal, John Henry Kurtz, Douglas Maida, Tara Strong, Lori Hall, Brian Palermo, John Platt, Bart McCarthy

Narrated By:

Creators:

Writers:

Bonnie Turner, Aron Abrams, Terry Turner, Bob Kushell, Mark Brazill, Gregory Thompson, Julie Sherman Wolfe, Bill Martin, Andy Cowan, Mike Schiff, Nastaran Dibai, Jeffrey B. Hodes, Joe Fisch, David Sacks, Michael Glouberman, Dave Boerger, Andrew Orenstein, Joe Liss, David Goetsch, Linwood Boomer

Aka:

3rd Rock from the Sun

Studio:

Network

Genres:
More like Third Rock from the Sun
Unlimited films sent to your door, starting at £10.99 a month.