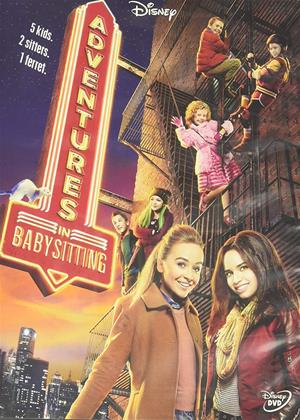 General info

Available formats
Synopsis:

Sofia Carson (Descendants) and Sabrina Carpenter (Girl Meets World) star in a hilarious, action-packed tale of two sitters, inspired by the '80s classic! Sparks fly when free-spirited Lola and prim, proper Jenny learn they're up for the same internship. But that night, after newbie babysitter Lola breaks "Rule #1: Never take your eyes off the kids", she's forced to call Jenny - currently on her own gig - to help track down Trey, who has snuck out. Now with all their young charges in tow, these rivals must team up and brave the big city on the wildest, wackiest adventure of £ their lives!

Actors:

Sabrina Carpenter

,

Sofia Carson

,

Nikki Hahn

,

Mallory James Mahoney

, Max Gecowets,

Jet Jurgensmeyer

,

Madison Horcher

,

Kevin Quinn

,

Gillian Vigman

,

Gabrielle Miller

,

Michael P. Northey

,

Ken Lawson

,

Max Lloyd-Jones

,

Kevin O'Grady

,

Hugo Ateo

,

Emiliano Díez

,

Amitai Marmorstein

,

Jasmine Chan

,

Kathryn Kirkpatrick

,

Sean Tyson

Directors:

Aka:

Further Adventures in Babysitting

Genres:
BBFC:

Release Date:

Not released

Run Time:

94 minutes
Rent other films like Adventures in Babysitting
Unlimited films sent to your door, starting at £9.99 a month.