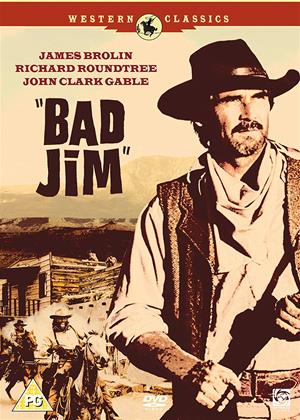 General info

Available formats
Synopsis:

When three cowhands, John T. (John Clark Gable), B.D. (James Brolin), and July (Richard Roundtree), are offered a magnificent Sorrel stallion in exchange for one of their mangy cowponies, they are naturally suspicious. It all becomes clear, however, when it appears the stallion is wild and vicious and unable to be ridden by anyone other than John T., who names him Jim. Dubbed Bad Jim by his bruised and battered companions, the horse inexorably leads the trio into a life of crime. From simple cowhands, they become most-wanted outlaws in the West. Bank robbing and killing become the norm for these once pure and honest cowboys, ever since they became "tainted" by Bad Jim.

But will they realize the cause of their problems before it's too late? Written and directed by Clyde Ware.

Actors:

James Brolin

,

Richard Roundtree

, John Clark Gable,

Harry Carey Jr.

,

Rory Calhoun

,

Ty Hardin

,

Pepe Serna

,

Bruce Kirby

,

Joe George

,

Suzanne Wouk

,

Pierrette Grace

,

Humberto Ortiz

, Tonya Townsend,

Teresa Van der Woude

, William J. Ware

Directors:

Writers:

Studio:

StudioCanal

Genres:
BBFC:

Release Date:

Unknown

Run Time:

86 minutes

Languages:

English

DVD Regions:

Region 2

Formats:

Pal

Colour:

Colour
More like Bad Jim
Unlimited films sent to your door, starting at £10.99 a month.