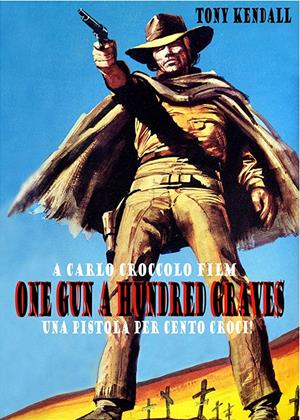 General info

Available formats
Synopsis:

An Irishman is killed in the wild West. His son Jimmy goes out searching for the killers of his father, but is soon ambushed by two highwaymen, and killed, too. Django (or Sartana, depending on the film's version) finds him, and reads the letter Jimmy had received from his sister Jessica Dublin telling him about their father's murder. The gunslinger brings the body to town, meets the beautiful redhead and her faithful black servant (who is an expert veterinarian and knife-thrower, as he will later demonstrate), and sets out in a search for revenge against the killers.

That will not be an easy task, and much sweat and pain must be endured, namely by Jessica, abducted, tortured and whipped by the very woman who started it all. By the end of the saga, Django will have justified to have a hundred cross marks in his gun's handle.

Actors:

Tony Kendall

,

Marina Malfatti

,

Mimmo Palmara

,

Ray Saunders

,

Monica Miguel

,

Roberto Danesi

,

Lidia Biondi

,

Mariella Palmich

, Carlo Boso,

Carlo Croccolo

, Luciano Conti,

Marcello Meconizzi

,

Benito Pacifico

,

Xiro Papas

Directors:

Writers:

Fabrizio Diotallevi, Carlo Croccolo

Aka:

Una pistola per cento croci!

Genres:

Countries:
BBFC:

Release Date:

Not released

Run Time:

94 minutes
Rent other films like Gunman of One Hundred Crosses
Unlimited films sent to your door, starting at £9.99 a month.