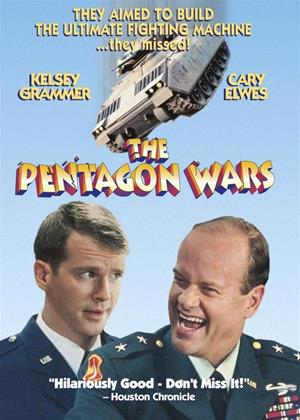 General info

Available formats
Synopsis:

Kelsey Grammer and Cary Elwes star in a movie based on the extraordinary true story of the outrageous lengths the Pentagon goes to defend our country... at any cost. For over 17 years - and almost as many billion dollars - military time, energy and lots and lots of cash have gone into devising The Bradley Fighting Vehicle. There's only one problem...it doesn't work. Now a new kid on the block, Colonel Burton, has been assigned to oversee the Bradley's development - and cover-ups, rigged tests and altered documents are rising to the surface as fast as General Partridge can bury them.

Burton discovers a monumental scandal that could break careers - which is why General Partridge will do everything in his power to keep a lid on it. And when these two opposing forces meet head-to-head in the Pentagon, you can be sure of one thing: It may get ugly, it may cost you a whole lot of tax dollars, but it will be very, very funny.

Actors:

Kelsey Grammer

,

Cary Elwes

,

Viola Davis

,

John C. McGinley

,

Tom Wright

,

Clifton Powell

,

Dewey Weber

,

Richard Schiff

,

J.C. MacKenzie

,

Richard Benjamin

,

Olympia Dukakis

,

Christopher Grove

,

Sam Anderson

,

Darcas Macopson

, Dominic D. DeNiro,

Daniel Raymont

,

Randy Oglesby

,

Billie Worley

,

Dann Florek

,

Beau Billingslea

Directors:

Writers:

James Burton, Jamie Malanowski

Studio:

4 DVD

Genres:
BBFC:

Release Date:

Not available for rental

Run Time:

99 minutes

Languages:

English

DVD Regions:

Region 2

Formats:

Pal

Colour:

Colour
Rent other films like Pentagon Wars
Unlimited films sent to your door, starting at £9.99 a month.