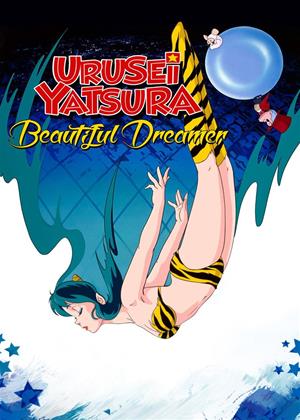 General info

Available formats
Synopsis:

Lum (voice of Fumi Hirano) is a cheerful alien who now lives with her human fiancée, Ataru (voice of Toshio Furukawa) and her goods friends on earth. The night before the school festival, the world begins to change, things seem to be repeating themselves. Gradually, all necessary functions come to a stop, people disappearing, streets deserting, buildings decaying except Lum and her friends who live ever happier. When they begin to probe the truth, they find out it's somebody's dream that is changing the world...

Directors:

Producers:

John O'Donnell, Hidenori Taga

Voiced By:

Fumi Hirano, Toshio Furukawa, Akira Kamiya, Kazuko Sugiyama, Saeko Shimazu, Mayumi Tanaka, Shigeru Chiba, Akira Murayama, Shinji Nomura, Issei Futamata, Ken'ichi Ogata, Natsumi Sakuma, Michihiro Ikemizu, Masahiro Anzai, Tomomichi Nishimura, T. Roy Barnes, Roxanne Beck, Takuya Fujioka, Edward Morrisson Garland, Tesshô Genda

Writers:

Aka:

Urusei Yatsura 2: Byûtifuru dorîmâ

Genres:

Countries:
BBFC:

Release Date:

Not released

Run Time:

90 minutes

Languages:

Japanese LPCM Mono

Subtitles:

English

DVD Regions:

Region 2

Formats:

Pal

Aspect Ratio:

Widescreen 1.78:1 / 16:9

Colour:

Colour
Rent other films like Urusei Yatsura 2: Beautiful Dreamer
Unlimited films sent to your door, starting at £9.99 a month.