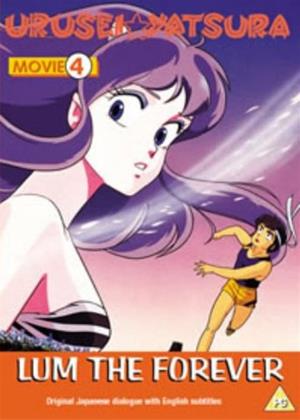 General info

Available formats
Synopsis:

Strange things begin happening in Tomobiki Town. When a great cherry tree "Tarozakura" is cut down while Lum and co. are making a movie, Lum loses her horns - and her power! Thus begins the strangest and most lyrical of the Urusei Yatsura movies. To explain any more would be to do you a disservice.

Directors:

Voiced By:

Fumi Hirano, Toshio Furukawa, Akira Kamiya, Kazuko Sugiyama, Saeko Shimazu, Shigeru Chiba, Shinji Nomura, Akira Murayama, Issei Futamata, Kazue Komiya, Tomomichi Nishimura, Michihiro Ikemizu, Natsumi Sakuma, Ken'ichi Ogata, Bin Shimada

Writers:

Aka:

Urusei Yatsura 4: Ramu za fôebâ

Studio:

MVM

Genres:

Countries:
BBFC:

Release Date:

20/10/2003

Run Time:

94 minutes

Languages:

Japanese

Subtitles:

English

DVD Regions:

Region 2

Formats:

Pal

Aspect Ratio:

Widescreen 1.66:1

Colour:

Colour

Bonus:

Interactive menus
Scene selection
Rent other films like Urusei Yatsura: Movie 4: Lum the Forever
Unlimited films sent to your door, starting at £9.99 a month.