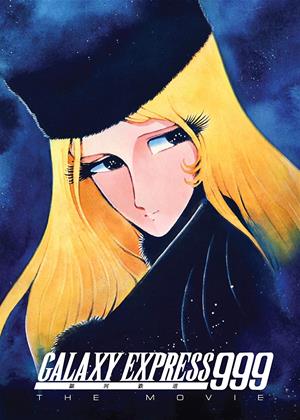 General info

Available formats
Synopsis:

"Galaxy Express 999" is the name of a train which travels through space, beginning at Megalopolis Station on one end of the galaxy and ending at Andromeda on the other. But the Galaxy Express is more than just a train, it's also a metaphor for life itself, with passengers constantly boarding, debarking, and dreaming along the way. Tetsuro Hoshino is a youth who'll give anything to board the Three-Nine, including a promise to accompany a mysterious woman named Maetel all the way to Andromeda, the planet where, she tells him, he can get a * machine body to avenge the cruel death of his mother.

Directors:

Producers:

Voiced By:

Masako Nozawa, Masako Ikeda, Yôko Asagami, Miyoko Asô, Toshiko Fujita, Banjô Ginga, Yasuo Hisamatsu, Makio Inoue, Tatsuya Jô, Ryôko Kinomiya, Kaneta Kimotsuki, Gorô Naya, Noriko Ohara, Ryûji Saikachi, Hidekatsu Shibata, Reiko Tajima, Kei Tomiyama, Kôji Totani, Akiko Tsuboi, Dicey Adams

Writers:

Aka:

Ginga tetsudô Three-Nine / Galaxy Express 999: The Signature Edition

Genres:

Countries:
BBFC:

Release Date:

Not released

Run Time:

129 minutes

Languages:

English, Japanese

Subtitles:

English

DVD Regions:

Region 2

Formats:

Pal

Aspect Ratio:

Full Screen 1.33:1 / 4:3

Colour:

Colour
Rent other films like Galaxy Express 999
Unlimited films sent to your door, starting at £9.99 a month.