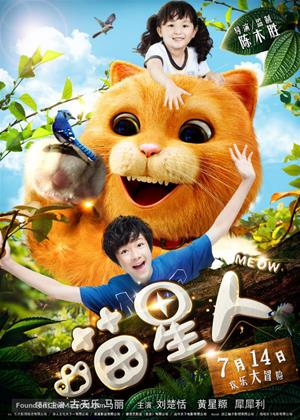 General info

Available formats
Synopsis:

Louis Koo and Li Ma star in this Cantonese-language comedy directed by Benny Chan. Sent to Earth from the planet Meow to start an invasion, giant warrior cat Pudding (voice of Ka-lok Chui) runs into trouble after losing the magical device which gives him divine powers. Unable to take down Earth without his powers, Pudding begins desperately searching for his precious machine. However, he is taken in and kept as a pet by aspiring entrepreneur Sau-lung Ng (Koo) and his wife Lai-chu (Ma) and soon finds his appetite for warfare wavering as he is accepted as part of the Ng family.

Actors:

Louis Koo

,

Li Ma

,

Chutian Liu

, Andy Huang,

Michelle Wai

, Louis Siu Cheung Yuen, Grasshopper,

Hoi-Pang Lo

,

Allen Ai

, Gaffer Tsui

Directors:

Writers:

Hing-Ka Chan, Miu-Kei Ho

Aka:

Miao xing ren

Genres:

Countries:
BBFC:

Release Date:

Not released

Run Time:

109 minutes
More like Meow
Unlimited films sent to your door, starting at £10.99 a month.