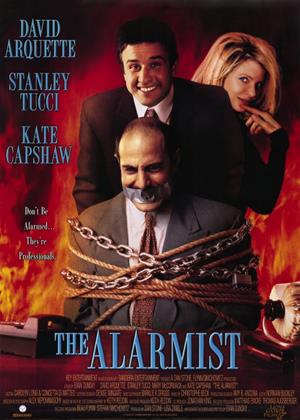 General info

Available formats
Synopsis:

Tommy Hudler (David Arquette) loves his new job with Grigoris Security Systems. On his very first day, he sells a complete SS9 self-actuating home alarm system. Better yet, he seduces Gale (Kate Capshaw), the fragile single mother who bought it. But Tommy's success takes a sinister turn when he discovers his boss, Heinrich (Stanley Tucci), is engaged in the profitable side-business of breaking into the very homes he's supposed to protect. Mind your step. There's a motion detector around every surprising corner in this twisted story and someone may just press the panic button.

Actors:

David Arquette

,

Stanley Tucci

,

Kate Capshaw

,

Mary McCormack

,

Ryan Reynolds

,

Tricia Vessey

,

Ruth Miller

,

Hoke Howell

,

Michael Learned

,

Lewis Arquette

,

Richmond Arquette

,

Gabriel Dell Jr.

,

Valerie Long

, Kim Tobin,

Colin Campbell

,

Eric Zivot

,

Vinnie Bilancio

,

Clea DuVall

,

David Brisbin

,

Brad Gorman

Directors:

Writers:

Aka:

Life During Wartime

Genres:
BBFC:

Release Date:

Not released

Run Time:

92 minutes
More like The Alarmist
Unlimited films sent to your door, starting at £10.99 a month.