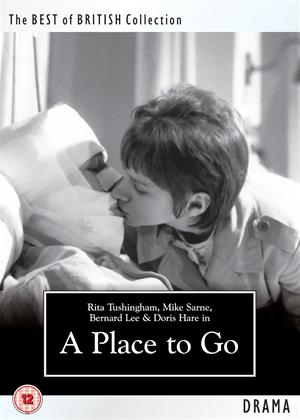 General info

Available formats
Synopsis:

Amidst the pub sing-songs and bombsites and with slums giving way to high-rise flats, life in Bethnal Green is changing for the Flints. Dad may decide to quit the docks and their daughter wants a new home with her husband and expected baby. Son Ricky is dissatisfied with his lot and equally eager to get away. Involved with a planned robbery of the cigarette factory where he works, his life becomes even more complicated when he gets involved with quirky Catherine.

Actors:

Bernard Lee

,

Rita Tushingham

,

Michael Sarne

,

Doris Hare

,

Barbara Ferris

,

John Slater

,

David Andrews

,

William Marlowe

,

Michael Wynne

,

Roy Kinnear

,

Norman Shelley

Directors:

Producers:

Writers:

Genres:
BBFC:

Release Date:

Not released

Run Time:

81 minutes

Languages:

English

Aspect Ratio:

Full Screen 1.37:1

Colour:

B & W
More like A Place to Go
Unlimited films sent to your door, starting at £10.99 a month.