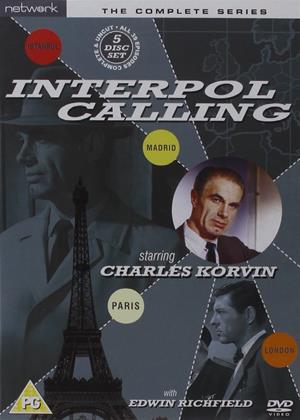 General info

Available formats
Synopsis:

World crime is his target. Intelligence and style are his most deadly weapons. When Interpol's Inspector Paul Duval is on the case, international criminals are on the run. Tracking his targets from searing sand dunes near the equator to icy peaks at the ends of the earth, the unstoppable investigator risks his life daily in a global race against time. He has the persistence of Columbo and the style of Holmes - and not even the most elusive fugitive can hide when he is on the hunt. Hungarian-born Charles Korvin stars as the intrepid Paul Duval, while Edwin Richfield is fellow Interpol investigator Mornay in this classic ITC series.

The series also features guest appearances from Donald Pleasence, Warren Mitchell, Alfred Burke and Patrick Troughton, among many others. This release contains all 39 half-hour episodes, originally screened in 1959.

Actors:

Charles Korvin

,

Edwin Richfield

,

Roland Bartrop

,

George Pastell

,

John Crawford

,

Richard Leech

,

Lisa Daniely

,

Carl Duering

,

Julian Sherrier

,

Balbina

,

David Lander

,

John Cairney

,

Bill Nagy

,

John Salew

,

Howard Marion-Crawford

,

Trevor Reid

,

Leonard Sachs

,

Cyril Shaps

,

Dorinda Stevens

,

Francis De Wolff

Directors:

C.M. Pennington-Richards

,

Robert Lynn

,

Charles Frend

, Bill Lewthwaite,

Max Varnel

,

Norman Harrison

,

David MacDonald

,

George Pollock

,

Jeremy Summers

Producers:

Anthony Perry, F. Sherwin Green, Connery Chapell

Writers:

Barbara Avedon, Robert Banks Stewart, Philip Chambers, David T. Chantler, Connery Chappell, Brian Clemens, Neville Dasey, Lewis Davidson, Paul Erickson, Leonard Fincham, Larry Forrester, Lindsay Galloway, Michael Hankinson, Tom Hutchinson, John Kruse, Max Marquis, Sam Neuman, Geoffrey Orme, Harold Orton, Ernest Player

Studio:

Network

Genres:

Countries:
BBFC:

Release Date:

Unknown

Run Time:

975 minutes

Languages:

English Dolby Digital 2.0 Mono

Subtitles:

None

DVD Regions:

Region 2

Formats:

Pal

Aspect Ratio:

Full Screen 1.33:1 / 4:3

Colour:

B & W

Bonus:

Extensive Image Galleries
PDF Material

Disc 1:

Disc 2:

Disc 3:

Disc 4:

Disc 5:
Rent other films like Interpol Calling: Series
Unlimited films sent to your door, starting at £9.99 a month.