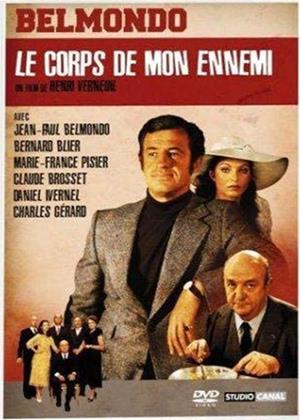 General info

Available formats
Synopsis:

François Leclercq (Jean-Paul Belmondo) has spent seven years in prison after being accused of a crime he did not commit. Now he returns to his small town in northern France and home to search for the real culprits. François will not support anyone because he has earned, without deserving, numerous enemies. However, you will meet the daughter of a wealthy businessman who will prove his love.

Actors:

Jean-Paul Belmondo

,

Bernard Blier

,

Marie-France Pisier

,

Charles Gérard

,

Daniel Ivernel

,

Claude Brosset

,

Michel Beaune

,

François Perrot

,

René Lefèvre

,

Nicole Garcia

,

Yvonne Gaudeau

, Suzy Prim,

Jean Dasté

,

Jacques David

,

Jean Turlier

,

Elisabeth Margoni

,

Monique Mélinand

,

Bernard-Pierre Donnadieu

,

André Reybaz

, Gaston Vacchia

Directors:

Voiced By:

Writers:

Michel Audiard, Félicien Marceau

Aka:

Body of My Enemy

Genres:

Countries:
BBFC:

Release Date:

Not released

Run Time:

116 minutes
Rent other films like Le Corps de Mon Ennemi
Unlimited films sent to your door, starting at £9.99 a month.