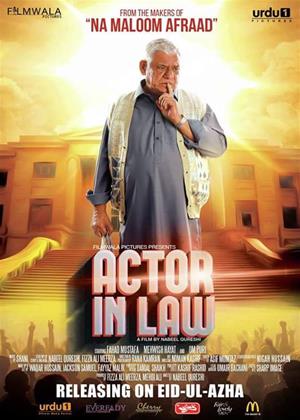 General info

Available formats
Synopsis:

Fahad Mustafa (Om Puri) stars as an up-and-coming lawyer who employs theatrics and over the top one liners in the courtroom. He aspires to become an actor, something which is met with disapproval from his father. His world is turned upside down when he is faced with a case that shakes the foundation of the country and threatens his career and family. Will he be able to use his theatricality and knowledge of the law to ensure justice? The film also fictionally portraits the celebrities in Pakistan such as Ayyan (model) who was recently arrested in a very publicized money laundering scandal and Mubashir Lucman, a famous news anchor.

Actors:

Om Puri

,

Alyy Khan

,

Mehwish Hayat

,

Fahad Mustafa

,

Lubna Aslam

,

Rehan Sheikh

,

Talat Hussain

,

Nayyar Ejaz

,

Rashid Khawaja

,

Saleem Mairaj

, Irfan Motiwala, Saboor Ali, Saife Hassan, Kaizer Behram Irani

Directors:

Writers:

Genres:

Countries:
BBFC:

Release Date:

Not released

Run Time:

116 minutes
Rent other films like Actor in Law
Unlimited films sent to your door, starting at £9.99 a month.