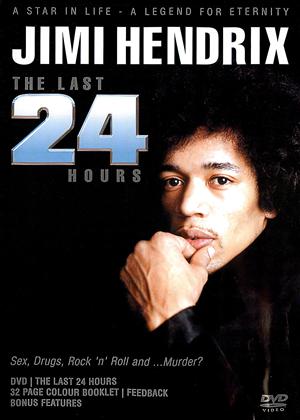 General info

Available formats
Synopsis:

Offstage Jimi Hendrix was a shy, retiring character but onstage he became a towering genius, who's performances and guitar mastery sparked a revolution in both music and fashion. Jimi was just 27 when he died. His death was never easily explained and to this day mystery still surrounds the death of one of the world's greatest rock legends. here, in Jimi Hendrix - The Last 24 Hours the producers explore and explain the reasons why Jimi's demise became shrouded in rumour, gossip and falsehoods.

The authorities and media quickly dismissed the death of Hendrix as just another drugged rock star casualty: however for the first time, the circumstances leading to Jimi's tragic death can be examined as the producers present new and compelling evidence. Evidence, which may reopen the inquiry into what may have been for certain parties, a convenient death. Viewers will have to decide for themselves just what happened on September 18th 1970 in a small, private hotel situated in the Notting Hill area of London.

Actors:

Studio:

Waterfall

Genres:
BBFC:

Release Date:

14/06/2004

Run Time:

58 minutes

Languages:

English LPCM Stereo

Subtitles:

Dutch, French, German, Italian, Spanish

DVD Regions:

Region 2

Formats:

Pal

Aspect Ratio:

Full Screen 1.33:1 / 4:3

Colour:

Colour

Bonus:

The Hendrix picture gallery
Discography
More like Jimi Hendrix: The Last 24 Hours
Unlimited films sent to your door, starting at £10.99 a month.