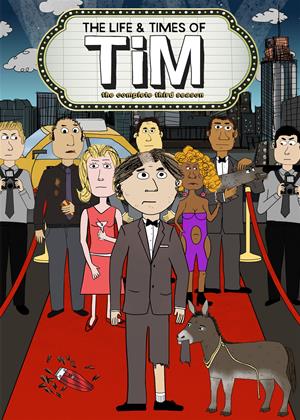 General info

Available formats
Synopsis:

Tim (creator Steve Dildarian), the 25-year-old Manhattan slacker at the center of this HBO animated series, doesn't start off his third season in a particularly auspicious manner - he doesn't end it that way either. After losing his job with Omnicorp, he takes a position as a New Jersey locker-room attendant, and lies to his girlfriend, Amy (M.J. Otto), out of shame. Then, when he gets the chance to interview for a better job, his propensity for leaving tiny tips catches up with him, so out of desperation he returns to his old gig as a golf caddy (guest actors Stephen Root and Anton Yelchin voice his country-club colleagues).

Through a twist of fate, rather than any special effort on his part, Tim eventually returns to the corporate world, where he reconnects with the Boss (Peter Giles). Throughout these 10 episodes, he also starts a race riot, ruins a bar mitzvah, attempts to kidnap a dog, and contributes to a coworker's death (as with Beavis and Butt-Head, each episode features two 15-minute stories), but it isn't all bad: he still has his buddies, Stu (Nick Kroll) and Rodney (Matt Johnson), and he also helps a Mexican building manager to find a more lucrative line of work - as a prostitute. Other guest voices include Alan Tudyk as a neighborhood hooker, Penny Marshall as a PR rep, and Billy Dee Williams as Billy Dee Williams. With a hesitant voice that recalls Ray Romano and Larry David, Dildarian makes Tim surprisingly likable for a defensive character who complains all the time, possibly because he isn't without a conscience or a heart - as tiny as they may be. Though HBO didn't renew the show for a fourth season, Dildarian made sure that it went out with an amusing bang.

Directors:

Producers:

Voiced By:

Steve Dildarian, M.J. Otto, Nick Kroll, Matt Johnson, Peter Giles, Kym Whitley, Marc Maron, Kate Flannery, Edie McClurg, Julianne Grossman, Jonathan C. Daly, Andrew Daly, Andy Kindler, Paul Rust, Anton Yelchin, Stephen Root, Joe Flaherty, Rob Corddry, Alan Tudyk, Horatio Sanz

Writers:

Steve Dildarian, Leynete Cariapa, BJ Porter, Jon Ross, Luke Del Tredici, Robert Cohen, Graham Wagner, Scott Troy

Genres:
BBFC:

Release Date:

Not released

Run Time:

300 minutes

Languages:

English LPCM Stereo

Subtitles:

None

DVD Regions:

Region 2

Formats:

Pal

Aspect Ratio:

Full Screen 1.33:1 / 4:3

Colour:

Colour

Disc 1:

Disc 2:
Rent other films like The Life and Times of Tim: Series 3
Unlimited films sent to your door, starting at £9.99 a month.