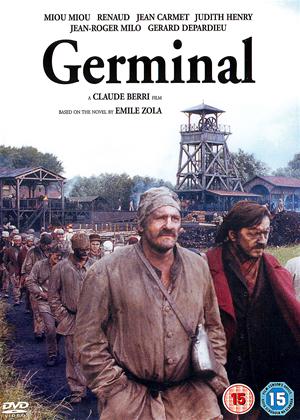 General info

Available formats
Synopsis:

This lavish adaptation of Emile Zola's epic novel about striking coal miners, stars Gerard Depardieu as Maheu, a simple miner who struggles to make a life for his wife (Miou Miou) and seven children, whilst working in the mines of Le Voreux. When Etienne Lantier (Renaud), a Belgian outsider, comes to town looking for work, he is befriended by Maheu and employed alongside the hard-working family and soon begins to speak out about social change and the appalling conditions of the coal mines.

The contrast between the wealthy villas and lavish meals of the French aristocracy and the hellish atmosphere of the mines, where the workers earn just enough money to keep from starving, is starkly illustrated in this painstaking and moving evocation of a true classic of French literature.

Actors:

Renaud

,

Gérard Depardieu

,

Miou-Miou

,

Jean Carmet

,

Judith Henry

,

Jean-Roger Milo

,

Laurent Terzieff

,

Bernard Fresson

,

Jean-Pierre Bisson

,

Jacques Dacqmine

,

Anny Duperey

,

Gérard Croce

,

Frédéric van den Driessche

,

Annick Alane

,

Pierre Lafont

Directors:

Writers:

Studio:

Pathe

Genres:

Countries:
BBFC:

Release Date:

Unknown

Run Time:

152 minutes

Languages:

French

Subtitles:

English

DVD Regions:

Region 2

Formats:

Pal

Aspect Ratio:

Widescreen 2.35:1

Colour:

Colour
Rent other films like Germinal
Coal gets in your lungs - Germinal review by JD
This film will stay with you for a week. It is a dated film about the poor working conditions of coal miners in France contrasted unsubtly with the great wealth of the managers and owners. The pace is slow and some of the scenes could be edited. The feel is of a 60s film and that can be quaint or dated depending on your mood. It is gripping however and at times emotional. The acting is generally good with a few exceptions; Gerard of course is excellent. 4 stars is mainly for Gerard and for its unusually memorable story.
1
out of
1
members found this review helpful.
Unlimited films sent to your door, starting at £9.99 a month.