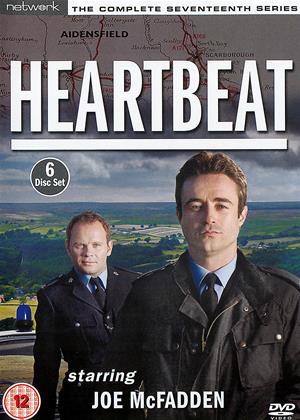 General info

Available formats
Synopsis:

Set in rural North Yorkshire during the 1960's, Heartbeat's combination of crime and medical storylines, charismatic regular characters and wonderfully nostalgic soundtrack made it staple Sunday-night viewing for two decades, with the series' many prestigious awards including Best Performing Peak-Time Drama and several ITV Programme of the Year awards. Attracting a peak audience of 14 million, 'Heartbeat' garnered a devoted following and remains prime-time viewing world-wide.

Featuring guest turns from Eric Sykes, Graeme Garden and Tim Brooke-Taylor, among others, this series introduces new village bobbies Joe Mason and Don Wetherby and sees the final episode of one of Heartbeat's best-loved characters - PC Phil Bellamy, played for 16 years by Mark Jordon.

Actors:

Andrew Ellis

,

Derek Fowlds

,

John Duttine

,

Vanessa Hehir

,

Peter Benson

,

Tricia Penrose

,

Rupert Vansittart

,

Gwen Taylor

,

David Lonsdale

,

Joe McFadden

,

Jack Marsden

,

Adam Colclough

,

Andy Merchant

,

Gary Kane

,

Berwick Kaler

,

Martin Jones

,

Mark Jordon

,

Steven Blakeley

,

William Simons

,

Clare Wille

Directors:

Roger Bamford

,

Gerry Mill

,

Adrian Bean

,

Judith Dine

,

Jonas Grimås

,

Mark McKillop

,

Andrew Morgan

,

Ian Bevitt

Producers:

Writers:

John Flanagan, Andrew McCulloch, Johnny Byrne, Nicholas Rhea, Peter Gibbs, Susan Wilkins, Jane Hollowood, Mark Holloway, Shaun McKenna, John Martin Johnson, Colin MacDonald, Stuart Morris, Philip Palmer

Studio:

Network

Genres:
BBFC:

Release Date:

Not available for rental

Run Time:

1130 minutes

Languages:

English Dolby Digital 2.0

Subtitles:

None

DVD Regions:

Region 2

Formats:

Pal

Aspect Ratio:

Widescreen 1.78:1 / 16:9

Colour:

Colour

Bonus:

Farewell Phil: Mark Jordon's departure is marked with a special edition, screened on Christmas Eve in 2007, which looks at the highs and lows of Phil Bellamy's life in Aidensfield - from the joys of finding love, to the loss of his only son

Disc 1:

This disc includes the following episodes:
1. Stop Gap
2. Heirs Apparent
3. Nigh Mail
4. Love Story

Disc 2:

This disc includes the following episodes:
5. Another Sleepy, Dusty, Delta Day
6. Touch and Go
7. Burying the Past
8. Only Make Believe
- Special Features

Disc 3:

This disc includes the following episodes:
9. The Devil Rides Out
10. Changing Roles
11. A Brush with the Law
12. The Heart of a Man

Disc 4:

This disc includes the following episodes:
13. Out of the Long Dark Night
14. Take Three Girls
15. Hey Hey LBJ
16. Danse Macabre

Disc 5:

This disc includes the following episodes:
17. Missing Persons
18. Taking Stock
19. The Big Chill
20. Bully Boys

Disc 6:

This disc includes the following episodes:
21. It Came from Outer Space
22. You Never Can Tell
23. Mixed Messages
24. Oscar's Birthday
More like Heartbeat: Series 17
Unlimited films sent to your door, starting at £10.99 a month.