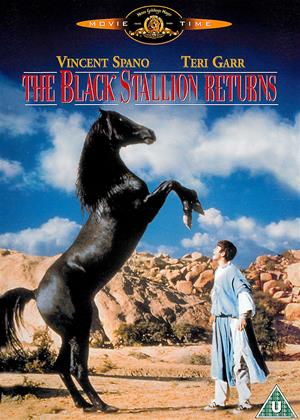 General info

Available formats
Synopsis:

He would go to the ends of the earth to rescue his most treasured friend... a champion racehorse named "Black". This remarkable story about the relationship between a young boy and his horse is a magnificent spectacle with adventures the whole family can enjoy. Co-starring Teri Garr (Tootsie) in a heartfelt performance, The Black Stallion Returns is an unforgettable journey of courage, hope and friendship that knows no bounds. "Black" is a stunning fire-and-silk stallion celebrated the world over. But to his young American owner, Alec Ramsey (Kelly Reno), he's much more.

So, when the amazing animal is stolen, Alec will stop at nothing to get him back - from stowing away on a plane to Casablanca to crossing the brutal Sahara desert. With the help of a friend named Raj (Vincent Spano), Alec finally unravels the mystery of Black's theft....only to discover that he must overcome even greater odds to reclaim his beloved horse.

Actors:

Kelly Reno

,

Vincent Spano

,

Allen Garfield

,

Woody Strode

,

Ferdy Mayne

,

Jodi Thelen

,

Teri Garr

,

Doghmi Larbi

,

Angelo Infanti

,

Luigi Mezzanotte

,

Franco Citti

,

Robert Behling

,

Joe Murphy

, Chris Larrance,

Loris Bazzocchi

,

Angelo Susani

, Willie Allen Faiella,

Ray Hassett

,

Gregory Snegoff

, Nick Sternberg

Directors:

Narrated By:

Writers:

Studio:

MGM

Genres:
BBFC:

Release Date:

04/09/2006

Run Time:

99 minutes

Languages:

English Dolby Digital 5.1, French Dolby Digital 3.0, German Dolby Digital 3.0, Italian Dolby Digital 1.0 Mono, Spanish Dolby Digital 3.0

Subtitles:

English Hard of Hearing, German Hard of Hearing, Greek, Hungarian

DVD Regions:

Region 2

Formats:

Pal

Aspect Ratio:

Widescreen 1.85:1

Colour:

Colour

Bonus:

Original Theatrical Trailer
Interactive Menu Screens
Chapter Selections
More like The Black Stallion Returns
Unlimited films sent to your door, starting at £10.99 a month.