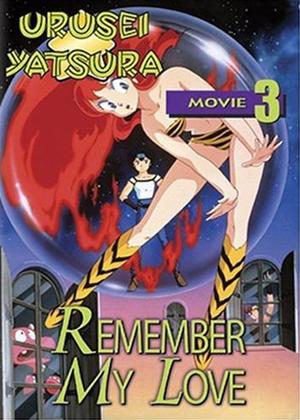 General info

Available formats
Synopsis:

In the first Urusei Yatsura movie, Ataru found himself a reluctant bridegroom trapped between two Alien Princesses.

In the second Urusei Yatsura Movie, he found himself trapped in a dream of Lum's making. Those were just warmups:

This time he finds himself...Herbivorous??

When Lum was born, a postal screwup caused a witchy friend of the family not to get an invitation to the celebration. Believing herself snubbed, she lays a curse on Lum - that she will never be happy with her True Love.



In the present, a new Amusement Park has been built in Tomobiki, and opening day finds the whole gang sampling its pleasures. At a magic show, however, Ataru gets turned into a pink hippopotamus - FOR REAL!

When Lum attempts to track down the magician that transformed her darling, things start to get very weird, very fast.

Actors:

Kamiya Akira, Shimazu Saeko, Sugiyama Kazuko, Washio Machiko

Directors:

Producers:

Taga Hidenori

Voiced By:

Hirano Fumi, Furukawa Toshio

Writers:

Komparu Tomoko

Studio:

MVM Entertainment

Genres:

Countries:
BBFC:

Release Date:

Unknown

Run Time:

93 minutes

Languages:

Japanese

Subtitles:

English

DVD Regions:

Region 2

Formats:

Pal

Aspect Ratio:

Full Screen 1.33:1 / 4:3

Colour:

Colour

Bonus:

Interactive Menu
Scene Access
Rent other films like Urusei Yatsura: Movie 3: Remember My Love
Unlimited films sent to your door, starting at £9.99 a month.