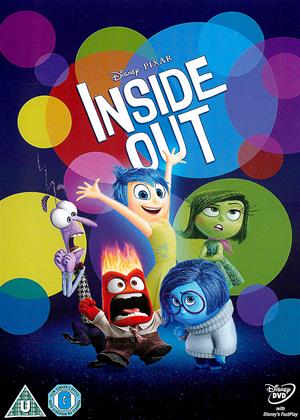 3.9 of

5

from

497

ratings
Synopsis:

Do you ever look at someone and wonder what's going on inside their head? Disney-Pixar's 'Inside Out' takes an imaginative journey into the mind to find the answer. Based in Headquarters, the control centre of 11-year-old Riley's mind, five emotions are hard at work, led by lighthearted optimist Joy. She strives to make sure Riley stays happy as she operates alongside fellow emotions Fear, Anger, Disgust and Sadness.

Directors:

Producers:

Voiced By:

Amy Poehler, Bill Hader, Lewis Black, Phyllis Smith, Richard Kind, Mindy Kaling, Kaitlyn Dias, Diane Lane, Kyle MacLachlan, Paula Poundstone, Bobby Moynihan, Paula Pell, Dave Goelz, Frank Oz, Josh Cooley, Flea, John Ratzenberger

Writers:

Pete Docter, Ronnie del Carmen, Meg Lefauve, Josh Cooley, Michael Arndt, Simon Rich, Bob Peterson, Bill Hader, Amy Poehler

Year:

2015

Studio:

Walt Disney

Genres:

Ages 11-12, Ages 5-7, Ages 8-10, Disney, Family Adventures, Family Animation, Family Comedies, Family Dramas, Family Sci-Fi & Fantasy, Animation General

Awards:
Recent reviews by members
Overhyped and underplayed! - Inside Out review by CS
(
0
) of (
0
) members found this review helpful.
Disney don't seem to be very good at presenting original ideas, with most of their films pinching there peoples ideas and storylines and this film is no exception! Most people old enough to remember, will know this idea from the characters played in the cartoon strip 'The Numbskulls' from the British Beano comic book. Whilst Pixar appear have marketed this as an original idea, most people, here in the UK anyway, seem to think it's been lifted directly from 'The Numbskulls' and I'm inclined to agree! Anyway, after all the hype, which always puts me off a film, because if it's any good, it should sell itself, without all the marketing and toys to go with it. In fact too much attention is given to marketing nowadays, that many new films seem to be being criticised for putting the marketing opportunities, i.e. the money, before the creativity and quality of the films, again I'm inclined to agree, and most definitely feel that is the case with this film! Pixar have a really annoying habit of lifting parts of characters from other films, i.e. a hairstyle here, a face there, a body from somewhere else and putting it all together to create a new character and that seems to be exactly what they've done here as well, I even noticed Minions re-cycled here too! The storyline is simplistic, the usual theme about being yourself and comfortable within your own skin, which again Americans seem to have a really big hang up about, that and being socially accepted for who you are! I found the character of Sadness a real drag, to the point that she dominated the film and brought it down. This film had its moments and overall is quite a good film to watch once off, but i wouldn't watch it again nor would I buy it! It would be nice if Disney would stop pinching other people ideas for a change and come out with something new and original!!
Disappointing - Inside Out review by MD
(
0
) of (
0
) members found this review helpful.
4 of the 5 reviewers here to date were not overly impressed with this much-praised movie, and I tend to agree with them. It may not be an original idea (see Numbskulls), but it was certainly a clever concept that offered lots of opportunity for Pixar to work their usual magic, except this time they didn't. It was way too adult for kids, and way too childish for adults; there were some great moments and one or two really fun scenes, but there were also long stretches of fairly bland, almost tedious, material which has NEVER been the case in previous offerings from this studio. The tone was awfully downbeat for much of the movie, and I got fed up with Sadness being such a drag. And, yes, the concluding 20 minutes was all too pat and contrived. I am pleased to see Disney allowed something like this to be made, but I just don't think it had that X factor that made all the others such a delight. Watch the outtakes, etc, with the credits, and see if you don't think they are better than the feature movie!
Interesting idea but eventually boring - Inside Out review by ll
(
0
) of (
0
) members found this review helpful.
Would have been better at half the running time. The storyline is OK and amusing at times but there is far too much repetition
of scenes.
All other members reviews
Write your own review
Inside Out Review
The creative team at Pixar have been playing with our emotions for years the way they have crafted deeply emotional and human stories, which is saying a lot for animated features about toys, monsters, superheroes and robots. Now they've personified those emotions within the head of 11-year-old Riley quickly approaching the age of 12. Venturing into the mind of a girl growing up presents a realm of psychological possibilities and Pixar thankfully explores every nook and cranny. They hit upon many unique and touching aspects of one's thought process and conflicting emotions that one might wonder if this subject matter is perhaps too deep for kids. But kids really deserve more credit than that as they're clearly more complex as the film reveals. Everyone can relate to how terrible it is to move across the country.
Inside Riley's head exists a massive database of various mental elements from memories to dreams to beacons of her core personality. At the helm in a control center are her five key emotions controlling her actions with strategic turns at the wheel (or in this case a big button). Joy (Amy Poehler) is a Tinkerbell-esque pixie who plays a heavy role in Riley's developing life, preserving her cherished memories. Fear (Bill Hader) is the neurotic and safety-obsessed entity that tries to steer Riley away from danger. Disgust (Mindy Kaling) does her best to trigger Riley's gag reflex for broccoli with Anger (Lewis Black) at the ready for tantrum mode when dad won't allow dessert if she doesn't eat her dinner. Joy practically runs the ship while Sadness (Phyllis Smith) is kicked to the corner given how every memory she touches turns to a tearful one.
And everyone needs to be on point for Riley's big change of moving from Minnesota to California, a massive shifting of worlds given how her favorite memories involve playing hockey on the lake. But when Joy and Sadness are launched out of master control when something goes awry, they'll need to find their way back through Riley's mind and restore her core memories before the child ventures down a dark path. With Fear, Disgust and Anger freaking out at the controls, the film could proceed down a goofy route with Riley going out of character. But this is no Osmosis Jones or Innerspace. It's a very relatable tale of a little girl homesick for the home and life she's about to leave behind. Without Joy or Sadness to comfort her in the transition, Riley begins to lose all feeling as she becomes emotionally frustrated and contemplates running away back to Minnesota.
While Riley battles school and parents, Joy and Sadness have to venture through Riley's mental landscape to restore order. On their travels, they stop by the various areas that comprise Riley's psyche, creatively imagined as only Pixar can craft. Her dreams are located in a movie studio lot where various actors assemble to stage her dreams as movie productions. Her abstract thoughts are represented by a chamber that morphs and mutates any three dimensional characters into 2D illustrations and simple shapes. Every place and character the two emotions journey through is loaded with smart and playfully creative details based on human psychology. The only element that feels a little too simple is Riley's train of thought which is literally a train.
Thankfully, there are hardly any puns for all these CGI-rendered playgrounds and entities of the brain. There's no time for such lame jokes when there is so much at stake. In every passing hour without Riley's core memories and all emotions presents, the islands of her personality begin to crumble. It's a story that harkens back to Pixar's method of storytelling for Toy Story, taking such a relatable aspect of childhood and blowing it up not just for humor, but for all the humanity it can exploit. If Riley's tough decision of wanting to run away from home isn't enough to jerk some tears, Joy's discovery of letting Sadness enhance the precious moments of childhood will suck the water out of your sockets like a vacuum.
The inspiration from reality is what makes this Pixar film head over heels their best work of the decade. Director Pete Docter based the scenario off of both his own childhood experience of moving to Denmark as a kid and the changes he noticed in his pre-teen daughter growing up. The result - after much research and story development - is a film that appeals to kids and adults on every level. It touches on all the emotions it aims to personify with charming delivery and clever depictions. Sadness ends up being a key component, as with Docter's previous Pixar film Up, but Inside Out celebrates such a feeling by letting its audience know that it's okay to feel sad when going through a tough time. Never before have I seen an animated film of such intelligence that challenges its viewers with a very engaging trip through the mind, yet still manages to be a charming picture for audiences of all ages. This is an entirely new level of animation storytelling that only Pixar could conceive so well.
Mark McPherson - Cinema Paradiso
DVD details
BBFC:

Universal - suitable for all ages

Release Date:

23/11/2015

Run Time:

91 minutes

Aspect Ratio:

Widescreen 1.78:1 / 16:9

Format:

Pal

Colour:

Colour

Languages:

Subtitles:

Special features:

All-New Short: Riley's First Date?
Lava
Riley's First Date?
Audio Commentary with Director Pete Docter, Co-Director Ronnie Del Carmen and Producer Jonas Rivera
Blu-ray details
BBFC:

Universal - suitable for all ages

Release Date:

23/11/2015

Run Time:

95 minutes

Aspect Ratio:

Widescreen 1.78:1 / 16:9

Format:

Pal

Colour:

Colour

Languages:

Subtitles:

Special features:

All-New Short: Riley's First Date?
Lava
Riley's First Date?
Audio Commentary with Director Pete Docter, Co-Director Ronnie Del Carmen and Producer Jonas Rivera
Paths to Pixar: The Women of Inside Out
Mixed Emotions
To rent Inside Out just join
the Cinema Paradiso DVD rental and Blu-ray Rental service today and get a Free DVD rental trial. Sign up today!