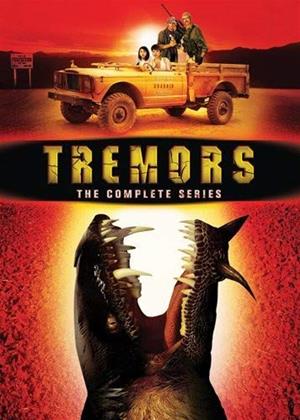 General info

Available formats
Synopsis:

Life in Perfection, Nevada, isn't so perfect since the small town developed a very big problem with man-eating, morphing monsters. Luckily, the residents are up to the challenge in every earthshaking, action-packed episode of 'Tremors'. Inspired by the movies that have become beloved cult classics, this fun, thrilling TV series reveals more of the down 'n' dirty battles as the locals attempt to coexist with the Graboids, Shriekers and Ass Blasters now on the "protected species" list, including a particularly large Graboid nicknamed "El Blanco".

Add to the craziness a combination of secret labs, the gene-blending "Mixmaster" and the occasional fanatical tourist, and there's never a dull moment in Perfection.

Actors:

Victor Browne

,

Gladys Jimenez

,

Marcia Strassman

,

Lela Lee

,

Dean Norris

,

Michael Gross

,

J.D. Walsh

,

Christopher Lloyd

,

Sarah Rafferty

,

Branscombe Richmond

,

Robert Jayne

,

Nicholas Turturro

,

Richard Biggs

,

Melinda Clarke

,

Vivica A. Fox

,

Joel McKinnon Miller

,

Harrison Page

,

Michael Rooker

,

Pat Skipper

,

Stuart Fratkin

Creators:

Genres:
BBFC:

Release Date:

Not released

Disc 1:

Disc 2:

Disc 3:
Rent other films like Tremors: Series
Unlimited films sent to your door, starting at £9.99 a month.