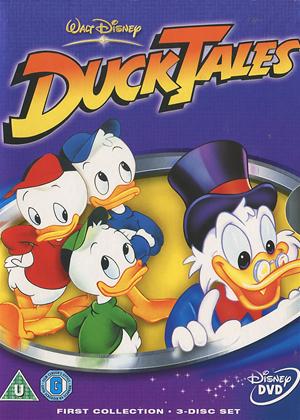 General info

Available formats
Synopsis:

The world's wealthiest duck brings his high-flying escapades home to Video with 'Duck Tales', Scrooge McDuck has a nose for business that leads him to the far comers of the world, but even this tycoon has his hands full when nephews Huey, Dewey and Louie join the fun. Joined by their loyal pals Launchpad McQuack, Gyro Gearioose, Mrs. Beakley and Webby Vanderquack, the DuckTales gang never fails to deliver a wealth of adventure.Whether searching for the long-lost crown of Genghis Khan, traveling back in time to the days of King Arthur's Round Table or being accidentally launched into outer space, Scrooge and the boys keep the thrills coming.

Get ready for a fortune of fun with some of the most memorable 'Duck Tales' episodes ever on three discs. It's a feather-raising quack-up that you and your family will treasure.

Directors:

Producers:

Tom Ruzicka, Fred Wolf

Voiced By:

June Foray, Joan Gerber, Chuck McCann, Terence McGovern, Russi Taylor, Frank Welker, Alan Young, Tony Anselmo, Peter Cullen, Marilyn Lightstone, Larry Moss, Joseph Ruskin, Brian Cummings, Hamilton Camp, Hal Smith, Jack DeLeon, Roger C. Carmel, Howard Morris, Gino Conforti, Arte Johnson

Writers:

Astrid Ryterband, Ken Koonce, David Weimers, Michael Keyes, Len Uhley, Carl Barks, Randy Lofficier, Samuel Warren Joseph, Manette Rosen, Richard Merwin, Anthony Adams, Francis Ross, Mark Zaslove, Karen Willson, Chris Weber, David Schwartz

Studio:

Buena Vista

Genres:
BBFC:

Release Date:

12/02/2007

Run Time:

457 minutes

Languages:

English Dolby Digital 2.0, French Dolby Digital 2.0, German Dolby Digital 2.0, Italian Dolby Digital 2.0, Spanish Dolby Digital 2.0

Subtitles:

English, English Hard of Hearing, French, German, Italian, Spanish

DVD Regions:

Region 2

Formats:

Pal

Aspect Ratio:

Full Screen 1.33:1 / 4:3

Colour:

Colour

Disc 1:

This disc includes the following episodes:
- Send in the Clones
- Sphinx for the Memories
- Where No Duck Has Gone Before
- Armstrong
- Robot Robbers
- Magica's Shadow War

Disc 2:

This disc includes the following episodes:
- Master of the Djinni
- Hotel Strangeduck
- The Lost Crown of Genghis Khan
- Duckman of Aquatraz
- The Money Vanishes
- Sir Gyro de Gearloose
- Dinosaur Ducks

Disc 3:

This disc includes the following episodes:
- Hero for Hire
- Superdoo!
- Maid of the Myth
- Down and Out in Duckburg
- Much Ado About Scrooge
- Top Duck
- The Pearl of Wisdom
More like Duck Tales: Series 1
Unlimited films sent to your door, starting at £10.99 a month.