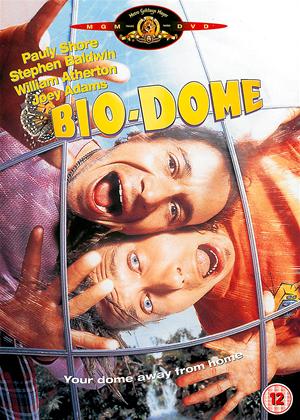 General info

Available formats
Synopsis:

Before Earth Day 1996, the closest Bud (Pauly Shore) and Doyle (Stephen Baldwin) had ever come to a garbage dump was the floor of their apartment! So when their ecology-conscious girlfriends ask them to stop wasting time and start cleaning waste, the dimwitted duo makes it clear that they'd rather talk trash than pick it up. But their world suddenly changes when they're accidentally trapped inside Bio-Dome - a yearlong scientific ecological experiment with no fast food or cable television! Will Bud and Doyle adapt to their new-found habitat...or will their very presence spell extinction for them, the project - and perhaps the entire planet?!

Actors:

Pauly Shore

,

Stephen Baldwin

,

William Atherton

,

Denise Dowse

,

Dara Tomanovich

,

Kevin West

,

Kylie Minogue

,

Joey Lauren Adams

,

Teresa Hill

,

Patricia Hearst

,

Robbie Thibaut Jr.

,

Adam Weisman

,

Henry Gibson

,

Brian Hayes Currie

, Courtney Mizel,

Butch McCain

,

Taylor Negron

,

Roger Clinton

,

Rose McGowan

,

Channon Roe

Directors:

Producers:

Narrated By:

Writers:

Studio:

MGM Home Entertainment

Genres:
BBFC:

Release Date:

12/01/2004

Run Time:

91 minutes

Languages:

English Dolby Digital 5.1, French Dolby Digital 3.0, German Dolby Digital 3.0, Italian Dolby Digital 3.0, Spanish Dolby Digital 3.0

Subtitles:

Danish, Dutch, English Hard of Hearing, Finnish, French, German Hard of Hearing, Italian, Norwegian, Spanish, Swedish

DVD Regions:

Region 2

Formats:

Pal

Aspect Ratio:

Widescreen 1.85:1

Colour:

Colour

Bonus:

Original Theatrical Trailer
More like Bio-Dome
Unlimited films sent to your door, starting at £10.99 a month.