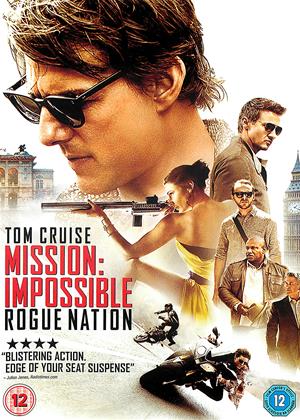 Rent
Mission Impossible: Rogue Nation

(2015)

Mission: Impossible 5
Actors:

Tom Cruise, Jeremy Renner, Simon Pegg et al.

Directors:

Runtime:

DVD: 126 min., Blu-ray: 132 min.

Availability:

DVD, Blu-ray
3.6 of

5

from

899

ratings
Synopsis:

With their elite organisation shut down by the CIA, agent Ethan Hunt (Tom Cruise) and his team (Jeremy Renner, Simon Pegg, Ving Rhames) must race against time to stop The Syndicate, a deadly network of rogue operatives turned traitors. To stop this global threat, Ethan must join forces with an elusive, disavowed agent (Rebecca Ferguson) whose loyalty is suspect as he faces his most impossible mission ever.

Actors:

Tom Cruise

,

Jeremy Renner

,

Simon Pegg

,

Rebecca Ferguson

,

Ving Rhames

,

Sean Harris

,

Simon McBurney

,

Jingchu Zhang

,

Tom Hollander

,

Jens Hultén

,

Alec Baldwin

,

Mateo Rufino

,

Fernando Abadie

,

Alec Utgoff

,

Hermione Corfield

,

Nigel Barber

,

William Roberts

,

Patrick Poletti

,

Martin Cochrane

,

David Peart

Directors:

Producers:

Writers:

Year:

2015

Studio:

Paramount Home Entertainment

Genres:
Mission: Impossible: Rogue Nation Review
Tom Cruise must be determined to become the American Jackie Chan of stunts. He already proved his worth in Ghost Protocol, but now he's just showing off with Rogue Nation. Spitting death in the face at every turn, Cruise finds himself gunning through traffic on a motorcycle, hanging from a plane as it takes off and holding his breath underwater as a robot claw smacks him around. The Mission Impossible series has garnered an irresistible presence on this basis of seeing just how far Cruise is willing to go with his stunts. If Paramount could afford to send him up into space, there's no doubt he'd be willing to hold onto a panel as the air is sucked out of a space station.
But while Tom Cruise parades as the death-defying Ethan Hunt once more, he leaves his co-stars in the dust. Jeremy Renner, reprising William Brandt, spends most of the movie playing Capitol Hill lawyer trading words with his new rival of a CIA director played by Alec Baldwin. Ving Rhames, reprising Luther Stickell, does little more than plan a few traps and tries his best to tag along with everyone else. And Simon Pegg, always likable as the high-strung hacker Benji Dunn, can do little more than react and panic whenever Cruise does something insanely dangerous. I guess not every actor can hold their breath for six minutes.
Quite a shame that there's not an even cut of character given the rather engaging spy story at play. Ethan Hunt has finally uncovered the elusive syndicate he'd been tracking for years. But just as it seems that he finally has a lead to bust open the biggest criminal consortium in the world, the IMF is disbanded and absorbed by the CIA. Months later and the whole crew find themselves on new assignments. All except for Ethan who has gone underground to continue his search for the Syndicate. He slowly brings his crew secretly back into the fold, trying to keep his operations outside the radar of the CIA.
It all sounds so exciting and for the most part it is. The premise brings about some fun sequences as when all four of them speed through the streets of Morocco while gunmen on motorcycles rush after them. There's even a chance for some of those old fashioned spy twists involving plenty of masked identities and structural traps. Just about every scene is a genuine thrill nearly equal to the previous film, Ghost Protocol. But it's only after all the intense chases, stunts and spy games do I realize how much of this is less Mission Impossible and more of Tom Cruise Tries To Kill Himself show. The long-running charm of these movies is that there's a real team at play that breeds a sense of comradery. It's still here, but more in the background than you'd expect for this fifth installment.
And then there's the underwhelming villain. Solomon Lane is supposed to be the mastermind of the intricate and sinister Syndicate, but he's played far too low-key by Sean Harris. He throws on the thick glasses and speaks with a quiet snobbiness - mannerisms better suited for a hacker genius than a crime syndicate leader. There's at least a capable turncoat of the organization played by Rebecca Ferguson who does a decent job filling out the role. And Alec Baldwin as the CIA director? Well, he's playing Alec Baldwin - no complaints.
While Rogue Nation doesn't trump Ghost Protocol, it still has a solid grip on the eyes for its amazing spy thrills. For as much screentime as Tom Cruise hogs, he doesn't waste it with chases and stunts that never fail to be exhilarating. I just hope he doesn't forget to remember that his co-stars are just as capable. Everyone will remember this picture for the way Tom Cruise hangs on to the door of a plane as it takes off. Few will remember Ving Rhames for the way he constructed a mirrored box to trap the bad guy. Just a thought before your eyeballs pop out at the expertly shot underwater sequence.
Mark McPherson - Cinema Paradiso
DVD details
Blu-ray details
BBFC:

Suitable only for persons of 12 years and over

Release Date:

07/12/2015

Run Time:

132 minutes

Aspect Ratio:

Widescreen 2.39:1

Format:

Pal

Colour:

Colour

Languages:

Subtitles:

Special features:

Lighting the Fuse
Cruise Control
Heroes
Cruising Altitude
Mission: Immersible
Sand Theft Auto
The Missions Continue
Commentary by Tom Cruise and Director Christopher McQuarrie
4K Blu-ray details
BBFC:

Suitable only for persons of 12 years and over

Release Date:

Not available for rental

Run Time:

132 minutes
To rent Mission Impossible: Rogue Nation (aka Mission: Impossible 5) just join
the Cinema Paradiso DVD rental and Blu-ray Rental service today and get a Free DVD rental trial. Sign up today!