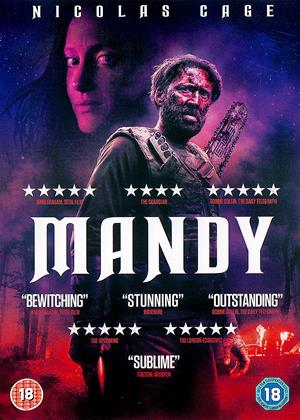 3.0 of

5

from

356

ratings
Synopsis:

Pacific Northwest. 1983 AD. Outsiders Red Miller (Nicolas Cage) and Mandy Bloom (Andrea Riseborough) lead a loving and peaceful existence. When their pine-scented haven is savagely destroyed by a cult led by the sadistic Jeremiah Sand (Linus Roache), Red is catapulted into a phantasmagoric journey filled with bloody vengeance and laced with fire.

Actors:

Nicolas Cage

,

Andrea Riseborough

,

Linus Roache

,

Ned Dennehy

,

Olwen Fouéré

,

Richard Brake

,

Bill Duke

,

Line Pillet

, Clément Baronnet,

Alexis Julemont

, Stephan Fraser,

Ivailo Dimitrov

, Hayley Saywell,

Kalin Kerin

, Tamás Hagyuó, Madd'yz Dog Lollyta, Corfu,

Paul Painter

Directors:

Producers:

Writers:

Panos Cosmatos, Aaron Stewart-Ahn, Chris 'Casper' Kelly

Year:

2018

Studio:

Universal Pictures

Genres:
Mandy Review
The only way to out-crazy Nicolas Cage is to place him in a film even crazier than he is. Mandy presents him in by far the creepiest, trippiest, and most psychologically perplexing of horror films. And for a film that features him wielding an over-the-top sword and watching a cheddar goblin on television, it manages to be one of the strongest of Cage at his best in a clever, violent, and kaleidoscopic nightmare.
Cage plays Red Miller, a logger working in the woods of the Shadow Mountains in 1983. When the day is done, he retreats to his nearby cabin home where his artist girlfriend Mandy (Andrea Riseborough) is waiting for him. They have quiet evenings at home, snuggling together and talking about the fantasies that Mandy finds herself getting lost in through her art she paints and the novels she reads. Dinners are spent in front of the television, watching horror films they find most fascinating. Both have reformed themselves from troubled pasts.
Their distant life is shattered when a hippie cult, Children of the New Dawn, comes to town and targets the couple. Their creepy leader, Jeremiah Sand, demands the beautiful Mandy be brought before him, bending the woman to his whim the help of demonic bike riders and the most potent of drugs. But even when under the influence, Mandy doesn't buy Sand's "God told me to have female slaves" babble, especially when he tries to seduce her while naked with a shriveled penis. Red won't take their crap either, even after he has been gagged with barbed wire, stabbed in the gut, and left for dead. After seeing what they've done to Mandy, he goes on a brutal and bloody road of revenge.
To merely call Mandy crazy from this point onward seems not only understated but insulting. It pursues down a route that could be considered random, what with Cage's plan to craft a giant sword and the juxtaposition of the Cheddar Goblin on television. But it's made very clear from the first few scenes that a horror such as this is aiming to be anything but lucid. The film slowly wraps you in its cozy cabin setting before coiling its colorful tendrils of terror around the mind. More and more disorienting the film becomes over time, from the animated dreams Red has of Mandy to the landscape that seems to transform into the cover of an out-there sci-fi/horror novel.
But the film thankfully never goes too far off the rails when it comes to its story, allowing the visuals to be the most wild and experimental of the film, far out-crazying Cage himself. Notice how with every dream, every kill, every trip down the road, the world grows starker and stranger. Harsh colors bathe the film in an endless fog of red and purple. Scenes of great horror are held for long and sometimes quiet moments of discomfort. The final showdown of Red versus Jeremiah is one that is certainly gruesome but also disturbingly weaved with light dipping in and out as the realizations of power shift and the terror takes an unsettling turn.
Mandy manages to avoid being yet another pitfall of a 1980s based horror and goes for the throat of the most frightening, stylish, and oddly compelling. A lesser film would have taken too much glee in the demonic biker gang of spiked armor or the odd placement of the Cheddar Goblin. But Mandy is aware enough to how much to use of everything, letting the cinematography take the reigns and twist our perceptions of the world where Red has his life tinted in blood, demons, swords, and cults fit for carving in a hellish world that turns more surreal with each scene. And how could you not love Cheddar Goblin!
Mark McPherson - Cinema Paradiso
DVD details
BBFC:

Suitable only for persons of 18 years and over

Release Date:

29/10/2018

Run Time:

121 minutes

Aspect Ratio:

Widescreen 2.40:1

Format:

Pal

Colour:

Colour

Languages:

Subtitles:

Special features:

Behind the Scenes
Deleted Scenes
To rent Mandy just join
the Cinema Paradiso DVD rental and Blu-ray Rental service today and get a Free DVD rental trial. Sign up today!