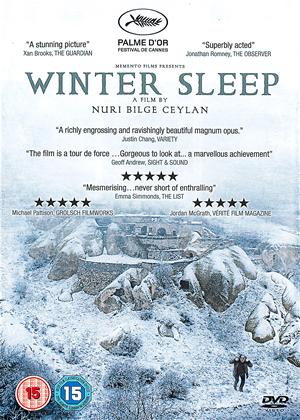 3.5 of

5

from

299

ratings
Synopsis:

The 2014 Cannes Palme d'Or winner from Nuri Bilge Ceylan is set in the hilly landscape of Cappadocia in Central Anatolia. A former actor, Aydin (Haluk Bilginer), owns a small hotel cut into the hillside, which he runs with his younger wife Nihal (Melisa Sozen). He has also inherited local properties, but leaves the business of rent collection to his agent. When a local boy, resentful of his father's humiliation by Aydin's agent, throws a stone at a jeep whilst Aydin and his agent are driving in it, Aydin ducks out of any responsibility or involvement. As the film progresses, the cocoon in which this self-satisfied man has wrapped himself is gradually unravelled. In a series of magnificent set-pieces, Aydin is exposed in his encounters with his wife, sister, and the family of the stone-throwing boy. He is finally brought face-to-face with who he truly is.

Actors:

Haluk Bilginer

, Melisa Sözen,

Demet Akbag

,

Ayberk Pekcan

,

Serhat Mustafa Kiliç

,

Nejat Isler

,

Tamer Levent

,

Nadir Saribacak

, Emirhan Doruktutan, Ekrem Ilhan, Rabia Özel, Fatma Deniz Yildiz, Mehmet Ali Nuroglu

Directors:

Producers:

Writers:

Year:

2014

Studio:

New Wave Films

Genres:

Countries:

Awards:
Winter Sleep Review
For slightly over three hours, we are taken on a journey that examines a set of interesting characters as they are forced to live in extremely close quarters. Coming out of Turkey, Winter Sleep is being released internationally with English (and other) subtitles. I give it two out of five stars, because, while it does have its redeeming qualities, for the most part, it falls short.
Though it could be classed as an 'ensemble film', Winter Sleep's lead character is a former actor by the name of Aydin. He is the owner and operator of a small hotel located in Anatolia, Turkey. He works side-by-side with his younger wife Nihal, and Necla, his sister who is still recovering from her recent divorce. With Winter approaching, guests are leaving the area, and the harsh snow forces the hotel to become a shelter for the neighbours. With the close proximity causing nothing but problems, will they survive, or will their differences prove too great?
Unlike recent Hollywood trailers where you get the entire film in three minutes, I still had no idea what this film was about after I watched its trailer. I don't know whether it was because they wanted to highlight specific characters and shots, but it did make you have to watch the film. Winter Sleep, in general, dragged out too long, filled with shots that lingered unnecessarily. When I finally reached the character interactions (usually involving lengthy conversations), plot, and sub-plot, I didn't feel any more informed because of the artsy inclusions.
On a truely positive note, the script was very well done. This is a good thing because the dialogue takes up the majority of the film. The scenery was also beautiful in its blandness. Coming from Australia, these views are so foreign to me, and you really felt like you were in a faraway, isolated, land.
Watching films that showcase the talents of foreign filmmakers is great, but the subtitles are an annoying consequence. While you are taking-in the dialogue, you are missing the visuals that often reveal even more of the story. Subtle cues could be missed, and that is unfortunate because everything in a film like this has meaning.
Critics and audience members alike have had a very positive response. Unlike what most cinema-goers are looking for, most seemed accepting of the slow-burning story. However, if it were not for the engaging and multi-layered characters, I doubt the audiences would have stuck around. It has also won two awards at the 2014 Cannes Film Festival, which is a very prestigious venue.
It was a bold choice to make a film that is almost double the length of normal films - especially in our low-attention era - but, for the most part, it worked well for them. The story had its moments, but with it succeeding in creating interesting dialogue that lasted so long, its faults were almost forgiven.
Being honest, it is not a film you would watch again and again, however, you should give it a go if you're a film-lover.
Michelle Sommerville - Cinema Paradiso
DVD details
BBFC:

Suitable only for persons of 15 years and over

Release Date:

23/03/2015

Run Time:

196 minutes

Aspect Ratio:

Widescreen 2.35:1

Format:

Pal

Colour:

Colour

Languages:

Subtitles:

Special features:

140 Minute Behind the Scenes Documentary

Disc 1:

This disc includes the main feature

Disc 2:

This disc includes the following:
- Special Features
To rent Winter Sleep (aka Kis Uykusu) just join
the Cinema Paradiso DVD rental and Blu-ray Rental service today and get a Free DVD rental trial. Sign up today!