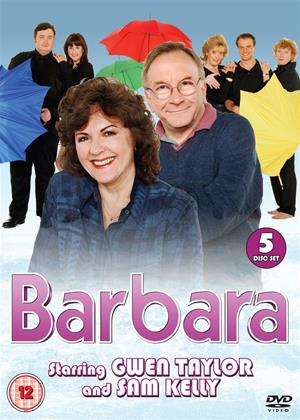 General info

Available formats
Synopsis:

To celebrate their fortieth wedding anniversary Ted takes Barbara to Scarborough,where they spent their original honeymoon. Unfortunately he also takes her to the run-down B & B where they spent the honeymoon,rather than the luxury hotel for which Barbara was hoping. In revenge she decides to party the night away with a visiting football team but next morning she and Ted end up in hospital when part of the hotel slides down the cliff in subsidence,taking them with it...Barbara rows with Ted,accusing him of spending too much time doing DIY for Neil's girlfriend's mother,an old flame of his.

She also falls out with Linda and Martin after she baby-sits for them and accidentally sets their kitchen on fire. Neil is unhappy with her when she frightens his girlfriend off and,needless to say,she is not popular with the patients at the surgery or anybody in the street. So...who shot her in the bottom with an air-rifle?

Actors:

Gwen Taylor

,

Sam Kelly

,

Bryan Pringle

,

Olive Pendleton

,

Mark Jardine

,

Shaaron Jackson

,

Paul Seel

,

Andrew Newton-Lee

,

Gerry Hinks

,

John Styles

,

Mark Benton

,

Elizabeth Carling

,

Benedict Sandiford

,

Toby Longworth

,

Jacki Piper

,

Peter Waddington

,

Jo Theaker

,

Rita Anamagura

,

Nasreen Hussain

,

Paul Townsend

Genres:

Countries:
BBFC:

Release Date:

Not released
Unlimited films sent to your door, starting at £9.99 a month.